2016 Jaguar XE S
jaguar | September 8, 2014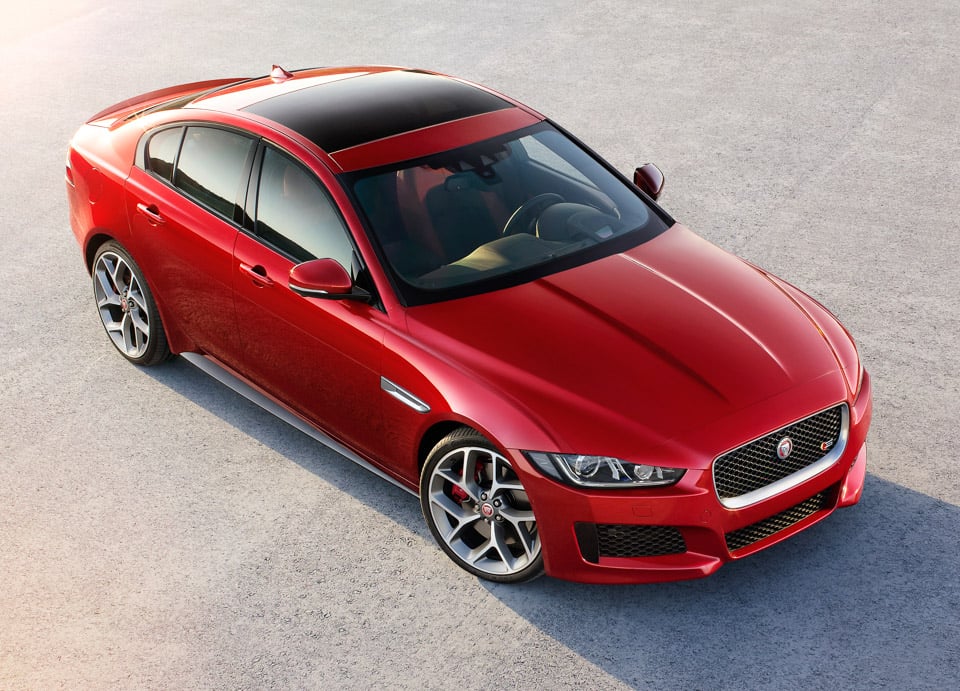 After teasing us for months, and with much pomp and circumstance (and silly theatrics), Jaguar today took wraps off of its new compact sport sedan, the Jaguar XE – specifically the sportiest model, the XE S. The car is clearly targeted at the BMW 3, Audi S3, and Mercedes C-class among others. With designer Ian Callum at the helm, the XE is certainly a good looking car, especially when outfitted in the XE S configuration, with its large air intakes, chrome side vents and rear spoiler.
Constructed predominantly from aluminum, the car is an impressively lightweight 3,249 lbs. Built on JLR's new modular architecture, the front-engine, rear-wheel drive Jaguar XE S is powered by a supercharged 3.0-liter V6 engine capable of producing 340 horsepower and 332 lb.-ft. of torque. 0-to-60 time is spec'd at 4.9 seconds, with a top speed of 155mph. Yes, this is the same engine found in the V6 F-Type. (The base XE will be available with Jaguar's new Ingenium 2.0-liter 4-cylinder engine.) The car is shifted by a special lightweight version of the ZF 8-speed gearbox found in other Jaguars, and can be controlled via paddle shifters.
Its double wishbone suspension system is said to be similar to that as the one found in the F-Type, which should help provide a very connected feel. However, the XE uses electric power assisted steering instead of hydraulics, which allows for a greater degree of programmability, but the jury is still out as to whether or not that will affect the responsiveness of the steering system. I personally love the hydraulic steering in the F-Type.
The car is loaded with high-tech features, including a large 8-inch touchscreen for navigation and media access, as well as iOS and Android remote control apps. In addition, there's an optional heads-up display, which uses laser technology to make it easy to read than other HUDs. Jaguar's All Surface Progress Control system is said to improve traction and braking in slippery conditions, and safety features such an optional autonomous emergency braking and lane-departure warning system.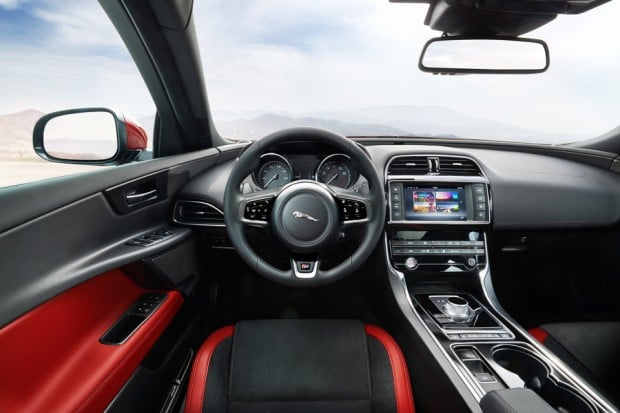 When fully spec'd out with the sports interior, the car looks spectacular inside, especially in the black and red trim shown here.
Jaguar has yet to reveal pricing information on the XE S, but the XE is expected to be the most reasonably priced Jaguar, and hit global dealers in 2015, and North American showrooms in 2016.