Review: 2014 Hyundai Veloster Turbo
hyundai | September 10, 2014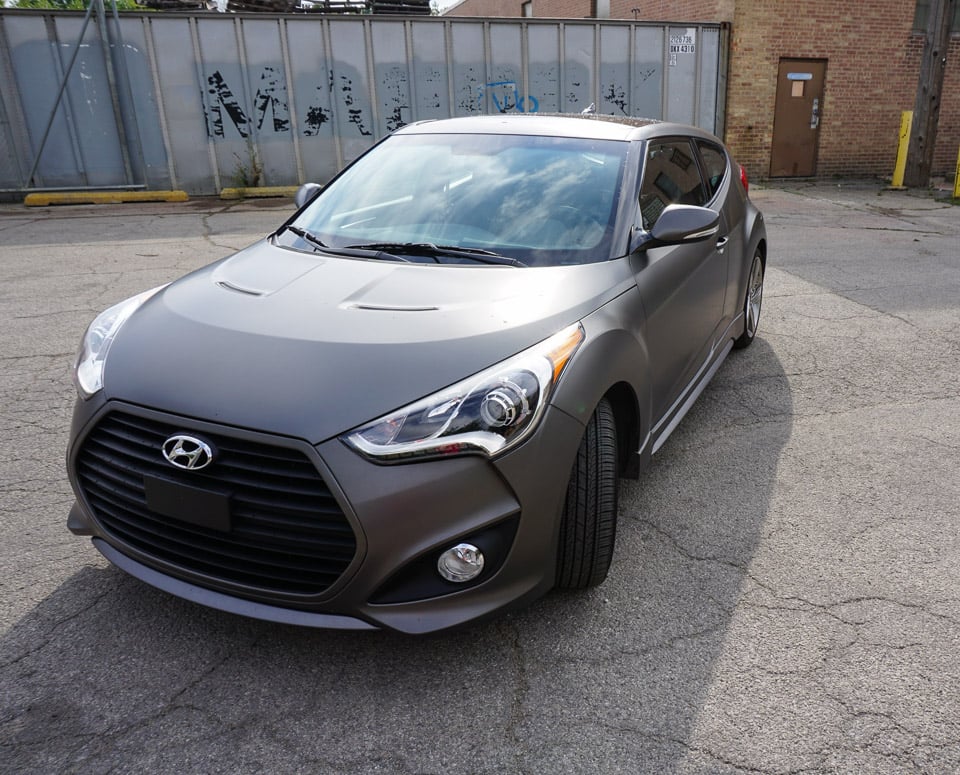 2014 Hyundai Veloster Turbo

Powertrain: 1.6L 201hp turbocharged 4 cylinder engine, 6-speed manual or automatic transmission
City/Hwy/Combined MPG: 24/33 (28 combined)
Curb Weight (lb): 2,877-2,928 (M/T) / 2,948-2,998 (A/T)
Wheelbase (in): 104.3
Total Length (in): 167.3
Width (in): 71.1 (w/o mirrors)
Base Price (USD): $22,300
Price as Tested (USD): $27,260 (w/freight)
The Hyundai Veloster has been on the market for a few years now, but this is the first time I've been able to get behind the wheel of one. In particular, I spent a week getting to know a Veloster Turbo, complete with the beautiful matte grey paint job you see here.
The Veloster Turbo is a bit of an enigma. It's a hot hatch that borrows platform elements from the Elantra and Kia Cee'D, but is a completely unique vehicle unto itself. As far as I know, the Veloster is the only production car with asymmetrical driver and passenger side doors. In fact, the Veloster has a single door on the driver's side, and two doors on the passenger side.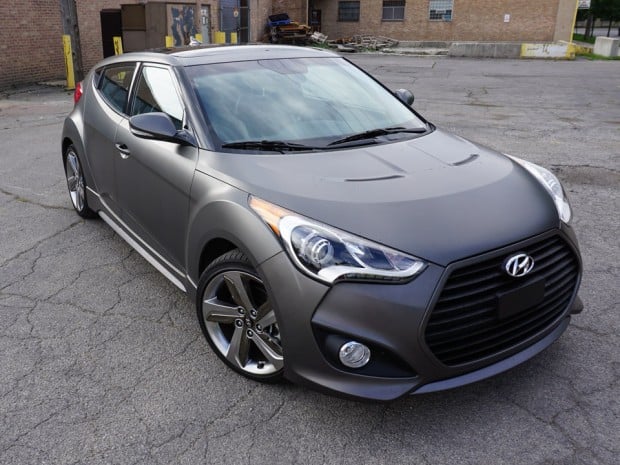 Outside, the car has an aggressive, sporty look, thanks to its wide-mouth black grille, sharp ground effects, and pronounced body creases and sloped roofline. Riding on bright 18-inch alloy wheels, it's definitely a car that looks ready to have a good time.
Under the hood, there's a 1.6-liter, twin-scroll turbocharged inline 4-cylinder engine that produces 201 horsepower and 195 lb.-ft. of torque. Since the car weighs under 3,000 pounds, it's got ample power for its size. In concert with the 6-speed manual gearbox, it's got plenty of get-up-and-go, and I didn't encounter any noticeable turbo lag. I particularly appreciated the upshift indicator on the dash. If manuals aren't your cup of tea, there's also a 6-speed automatic, which comes with paddle shifters.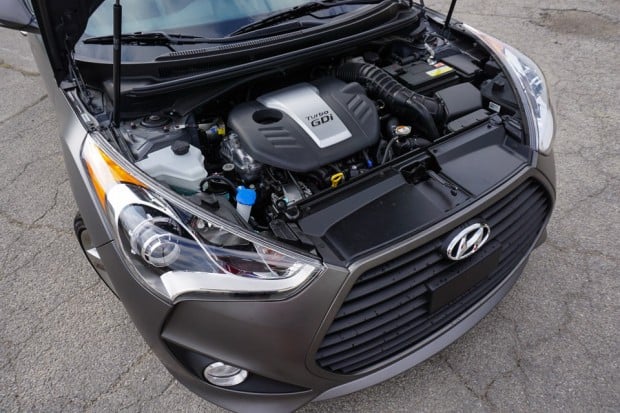 The Veloster's suspension system also felt good to me, providing a good amount of road feedback, without being rattly or harsh. Steering, on the other hand was less inspiring. Being a front-wheel drive with its size and power, I was hoping for the sort of go-kart feeling you might get from a Mini Clubman, but instead, turning the wheel felt a bit heavy and disconnected in everyday driving. Only when I pushed the Veloster into more extreme turns in an empty parking lot did the steering start to feel more fun – possibly because the car's torque vectoring was kicking in to help reduce understeer.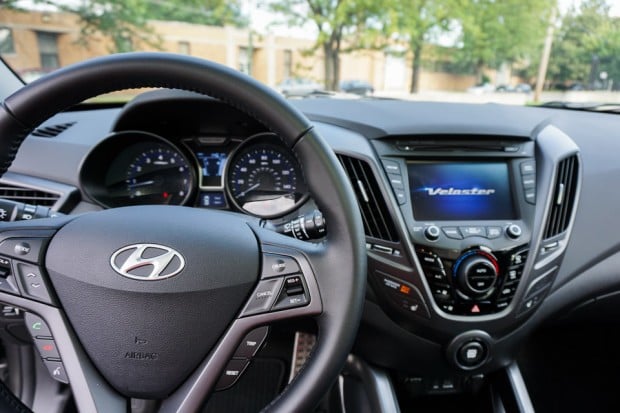 Inside, the Veloster has benefitted from Hyundai's ongoing improvements in fit and finish, with good ergonomics, and upscale features. Included in the Veloster Turbo as standard is a 450-watt AM/FM/Sirius XM/CD/MP3 audio system with 8 speakers, Bluetooth and Hyundai's BlueLink telematics system, a 7-inch touchscreen, backup camera, cruise control, pushbutton keyless start and heated front seats. Speaking of seats, they're surfaced in leather, as is the steering wheel and shift lever. When equipped with the $2700 Tech Package like my review car, you get a panoramic sunroof, backup warning sensors, automatic headlights, automatic temperature control, a 115v accessory outlet, and a navigation system.
Space inside the Veloster is better than I expected it to be, with good legroom and headroom for driver and front-seat passengers, and while the rear is a bit cramped, two adults can fit in back assuming the front seat passengers don't have their seats pushed back too far. That said, headroom is cramped in the back because of the sloped roof, and you'll definitely want to use the passenger side rear door for ease of entry. In terms of storage, the hatchback compartment offers 15.5 cubic feet – plenty of space for groceries or luggage, and the rear seats fold down in a 60/40 split to provide up to 34.7 cubic feet.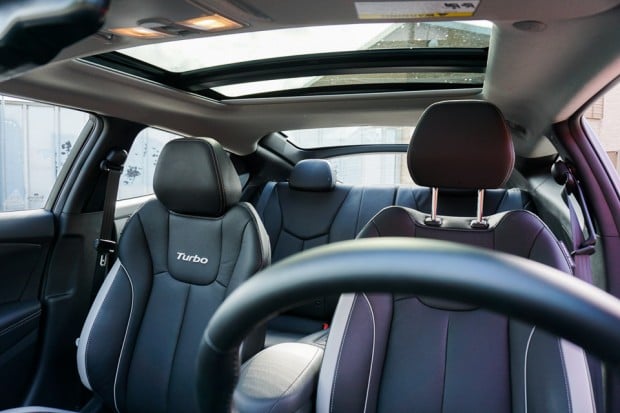 I really wanted to love the Veloster Turbo. I ended up merely liking it. The car has a whole lot going for it, with a quirky and fun design, plenty of attitude, well above average finishes and features, and a zippy turbocharged engine. Where it falls down is in the steering department. While I had hoped for tight and sporty control, I found it to be too disconnected for the kind of tight maneuvers and responsiveness I had hoped for. Still, it's a great looking little car, and is definitely worth consideration if you're in the market for something a little different.
While the car I reviewed was the 2014 model, the 2015 is now available, though from what I can tell it's virtually unchanged.