Ready to Race? 1964 Autodynamics Formula Vee
auctions | formula vee | volkswagen | September 15, 2014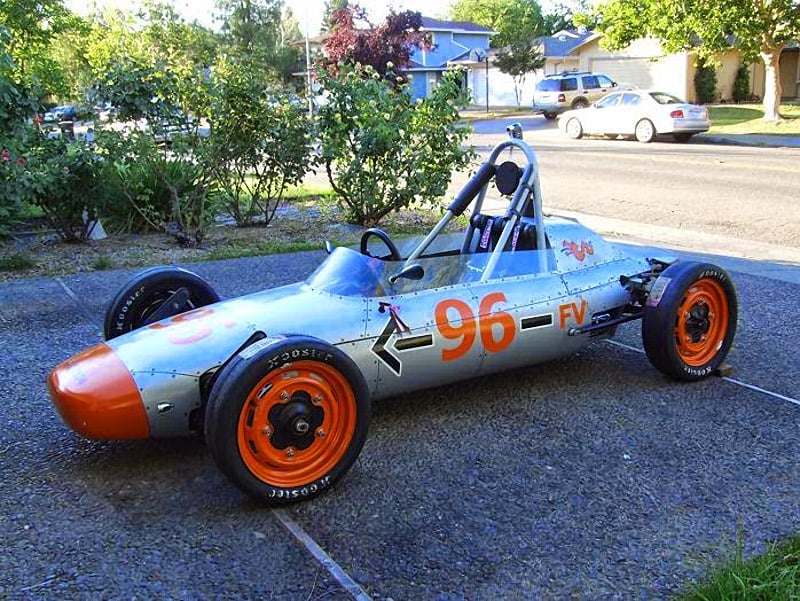 Formula Vee racing is a great way to get started on the racing circuit, and this 1964 Autodynamics Formula Vee racer may be the perfect entry point. As required by the Formula Vee standards, the open-wheeled single seater is powered by a vintage Volkswagen Beetle engine with a tube frame built around it. Certain other parts in Formula Vee must also be stock VW or modified stock VW parts, including the transmission, front suspension, brakes and wheels. This 1964 model may not necessarily qualify for Formula Vee racing, which must use parts from a 1964-1967 Type 1 Beetle, but maybe the owner knows something we don't. If you want to take this one out to compete in Formula Vee we suggest you investigate that further before you buy.
This 1964 Autodynamics Formula Vee racer has a rebuilt 1200 cc engine in the back and has plenty of tuning and mods specifically for the track, like a Solex carburetor, a new clutch disc, a new light starter, and an external oil cooler. There are a list of "bad" items associated with the vehicle that will need to be addressed; for example, it needs new belts, better shocks, a new battery, and the car is dusty.
But, if you want to try your hand at racing and get your tools greasy at the same time, this may be the way to go. And we think the car looks great for zipping around the track. It's priced at $4,000 USD for the basic car, $4,500 if you want extra wheels and tires, and $5,500 for all that plus the trailer.