Infiniti Driver Challenge: Chasing the Edge
infiniti | September 24, 2014
Infiniti brought together Sebastian Vettel, a Formula One driver for Red Bull Racing, Pan Xiaoting, a professional pool player from China, and Parker Kligerman, a NASCAR driver who drives for Penske Racing. Putting each driver behind the wheel of a prototype version of the sporty Infiniti Q50 Eau Rouge, with a 3.8-liter, twin-turbo V6 making about 560 horsepower tied to a seven-speed transmission, they each have a chance to show their stuff on the track.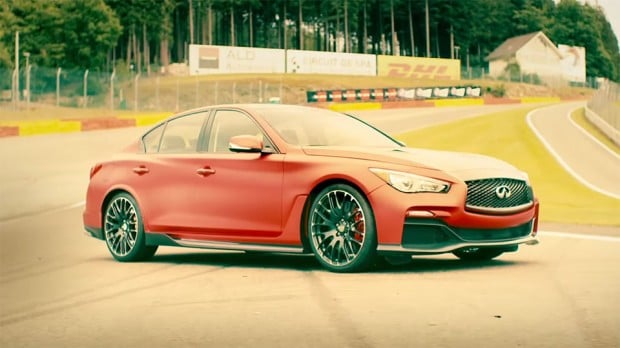 With two professional drivers and one pool player, it would seem Xiaoting wouldn't have a chance. Driving on the legendary Circuit de Spa-Francorchamps, a 4.3-mile track that is home to the Formula One Belgian Grand Prix, the race wasn't just about the fastest lap time. Each competitor also had a limited time allowed based on how much social media buzz they could muster prior to the race. So the winner was the driver who could travel farthest in their "social media" allocated time.
At the end of the event, Vettel came out on top, having covered 8.748 rain-soaked kilometers in 4:10:920; Xiaoting was second, covering 7.300 km in 04:00:050, and Kligerman pulled in last doing 6.241 km in 03:02:370.