Ferrari 458 Speciale Aparta
ferrari | September 26, 2014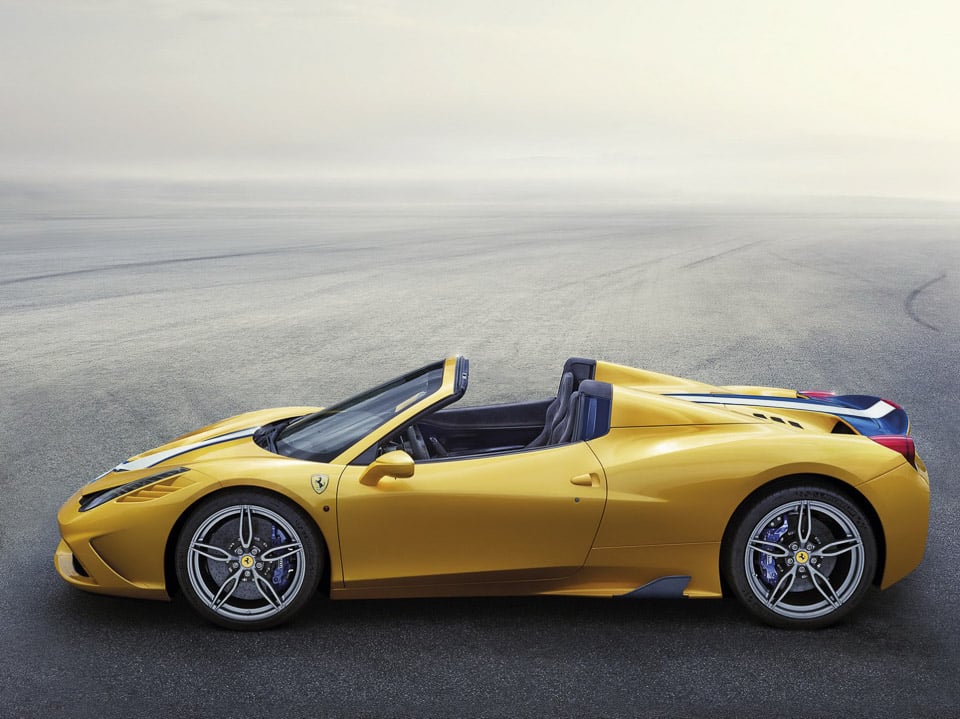 Ferrari has unofficially taken the wraps off its new, limited edition 458 Speciale Aperta. I'm not usually one to longingly admire a yellow sports car, but I'll make an exception for this open-top version of the incredible 458 Speciale. With a naturally aspirated V8 engine tucked behind the seats, this coupe puts out 597 horsepower at 9,000 rpm with 398 lb-ft. of torque, making it Ferrari's most powerful open top car. Plus, the retractable roof adds just 110 pounds to the car since it's made from aluminum, giving the car a total weight of just 2,954 pounds.
Tied to a seven-speed dual-clutch transmission the 458 Speciale A will go from 0 to 100 km/h (62 mph) in a very fast 3.0 seconds and can hit 200 km/h (124 mph) in just 9.5 seconds. Those numbers match that of the hardtop 458 Speciale.
Shown here in a triple-layer yellow paint scheme with Blu Nart and Bianco Avus stripes, the new Ferrari 458 Speciale Aperta will make its debut at the upcoming 2014 Paris Motor Show. Ferrari will be building just 499 models of this special Spider edition, so act quickly if you want your name on one.