Avtoros Shaman 8×8 ATV
atv | avtoros | off-road | September 29, 2014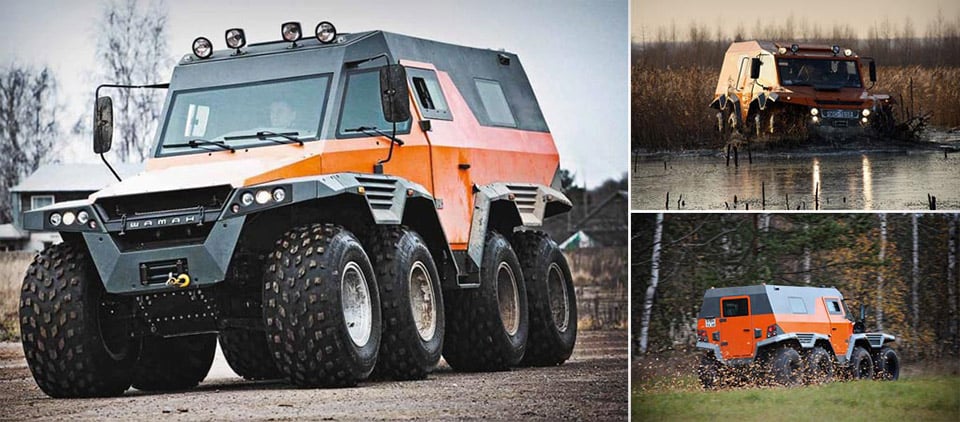 We've seen a number of extreme off-road vehicles in the past, including the Toyota Hilux 6×6 Willis Resilience Expedition truck, the Mercedes-Benz G63 AMG 6×6, and the enormous Mercedes Unimog KiraVan camper. Now we have a vehicle that taxes the 6×6 two better: the Avtoros Shaman 8×8. Designed to be highly customizable and configured to each buyer's needs, this awesome ATV will probably get you just about anywhere you want to go.
Equipped with a total of eight low-pressure tires, you'll laugh at those people driving 6×6 vehicles, and you look in disdain upon those people driving puny 4x4s. The Shaman can pull through snow, swamps, and up and down steep terrain without breaking a sweat. It can even become completely amphibious thanks to its sealed chassis and big tires; it even has a hydraulically driven propeller in the back. Powered by a 3.0-liter turbo diesel engine by Iveco, the Shaman has a top speed of about 50 mph on land and 4 mph while afloat.
The Shaman also has three driving modes: on-road is four-wheel drive with just the front wheels; off-road includes active rear-wheel steering; and crab mode turns all eight wheels together to move sideways (skip to the 1:30 mark in the video below to see crab mode in action).
The 1.5 ton off-road beast takes about two months to build to customer specs, so you'll have to plan ahead if you want one.