Lamborghini Asterion LPI 910-4
hybrid | lamborghini | October 1, 2014
With McLaren, Porsche and Ferrari each touting their own hybrid hypercars, it was only a matter of time before Lamborghini jumped into the fray. The Lamborghini Asterion LPI 910-4 combines a 610hp 5.2-liter naturally-aspirated V10 engine with three electric motors, resulting in a total of 910 horsepower, while dramatically reducing CO2 emissions.
In addition to driving in a high-power sport mode, the Asterion can drive up to 31 miles in its pure electric mode, which can be recharged by either the gas engine or by plugging the car into an AC outlet. Built with a lightweight carbon fiber monocoque body, the car can zoom from 0-to-100 km/h (62mph) in just 3.0 seconds, with a top speed of 199mph.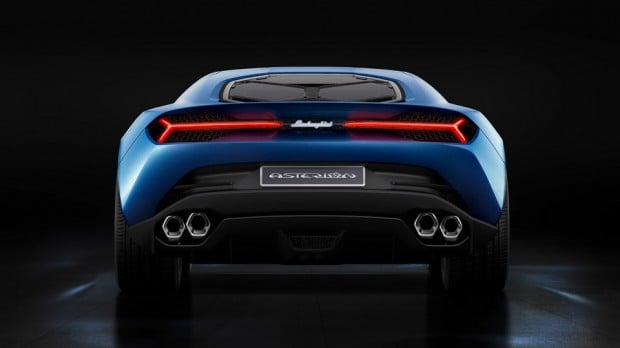 Shifting is achieved with a fast 7-speed dual-clutch gearbox, connected to the longitudinally mid-mounted V10. In hybrid mode, the Asterion provides all-wheel drive, while in electric mode, it becomes a front-wheel drive.
The car looks exceptionally good in the Blue Elektra metallic finish shown here, and while it's clearly a Lambo, I rather like the incorporation of more curves in the design than other recent models. In fact, it's the closest Lamborghini has come to its classic Miura design in years.
Inside, the car is designed to provide a sense of space with a less severe than usual windshield and A-pillar angle, providing increased headroom and comfort. In addition, the light and airy materials used inside are comfort and luxury oriented, making the Asterion more of a GT than a straight-up track car. Contrary to earlier rumors, it is still just a 2-seater – not a 2+2.
Lamborghini has yet to announce a production run of the Asterion, currently referring to it as a "technology demonstrator." If you happen to be attending the 2014 Paris Motor Show this week, you can see the Asterion LPI 910-4 in person.