Infiniti Q80 Inspiration Concept
infiniti | October 2, 2014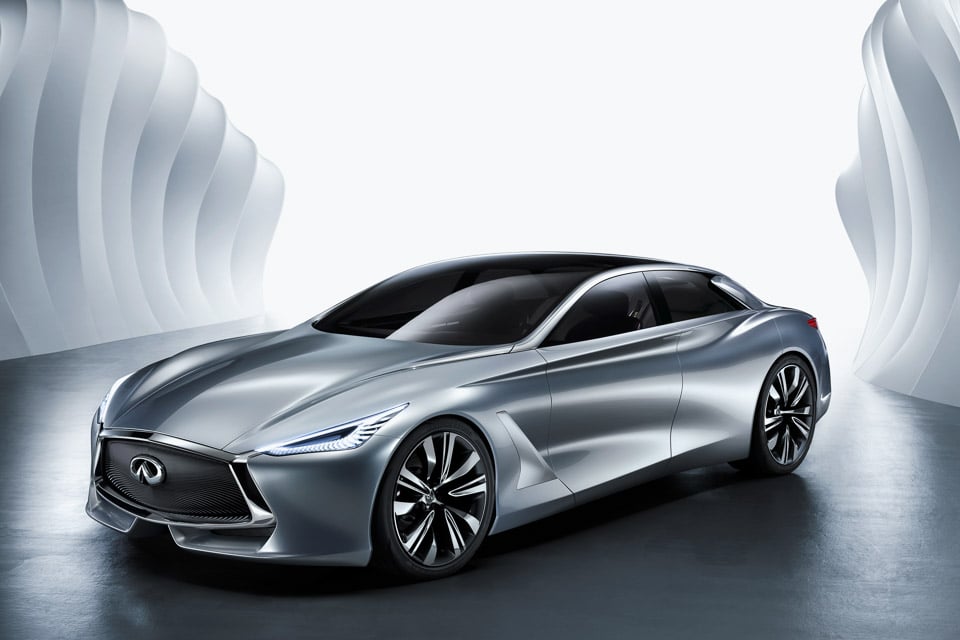 During the 2014 Paris Auto Show, Infiniti showed off their new flagship concept car, the Q80 Inspiration. This luxury car would sit at the top of the Infiniti line, offering a dramatic new take on the full-size sedan. Measuring in at a substantial 199.2 inches-long and 79.1 inches-wide, but only 52.8 inches-tall, the Q80 looks more like an oversized sports coupe than a typical large sedan.
Sporting a highly sculpted fastback style, and a body comprised primarily of aluminum and carbon fiber with chrome trim, it certainly looks great – though the Infiniti grill has gotten a little too exaggerated in the last few years for my tastes – and it's especially overstated in the Q80.
Under the hood, the car is designed with a powerful twin-turbocharged 3.0-liter V6 engine, which manages to push out an impressive 550 horsepower and 553 lb.-ft. of torque, driving this large car from 0-to-60mph in "sub 4 second" time and a top speed of 155mph. A 9-speed automatic transmission helps with fuel efficiency, as well as smooth shifting, and the car offers a distributable all-wheel drive system. Infiniti also has spec'd the car to have a steer-by-wire system – though if it's anything like the disconnected feel of the Q50, I say "no thanks."
Entry to the modern cabin is done using a four-door "portal" configuration, which is basically a modern way of saying that the rear seats are accessed using rearward-opening suicide doors. Inside, you'll find a full gamut of premium materials including aluminum, carbon fiber, horse hair, leather, and alcantara, as well metal and wood trim. The use of different colors and materials for front and rear seat passengers is an unusual, but welcome design decision. Overhead, a panoramic roof lets in plenty of light, and helps to enhance the sense of spaciousness.
There are also numerous high-tech features including five radar-linked cameras for safety and visibility, both driver and passenger heads-up displays. Each of the rear passengers gets their own touchscreen entertainment system as well.
The Q80 shown here isn't likely to go into production as-is, but it is Infiniti's intent to produce a premium full-size sedan with the same moniker, and the concept car will provide the foundation for that car.