2015 Porsche Cayenne S E-Hybrid
hybrid | porsche | October 6, 2014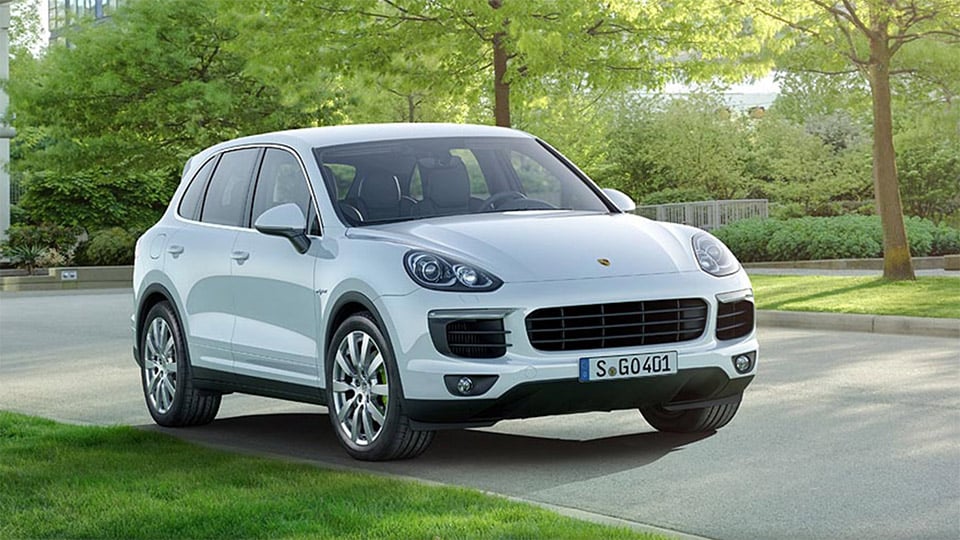 Porsche has officially unveiled what it's calling the world's first plug-in hybrid in the premium SUV segment. Dubbed the "Cayenne S E-Hybrid," the vehicle is based on the 2015 Porsche Cayenne, but of course has a radically different power plant. This is Porsche's third plug-in model and is slated to deliver much better mileage than the standard Cayenne and even has a limited all-electric driving mode.
The hybrid power plant consists of a 95 horsepower electric motor linked to a 10.8-kWh lithium-ion battery that can be charged either via the plug or from the gasoline engine. Speaking of which, Porsche also tucks a 333-horsepower, 3.0-liter supercharged V-6 engine under the hood to supplement the electric power. The combination of gas and electric results in a total horsepower of 416. Top speed in all-electric mode is 78 mph and the expected range on just the batteries should be between 18-30 miles depending on driving conditions. As far as performance, the vehicle goes from 0 to 100 km/h (62 mph) in 5.4 seconds and has a top speed of 151 mph with the gasoline engine.
The vehicles will launch in the U.S. market starting November 1, 2014 with an MSRP for the Cayenne S E-Hybrid starting at $76,400 (USD).