Hyundai x Blood Type Racing Genesis Coupe
hyundai | sema | tuners | October 9, 2014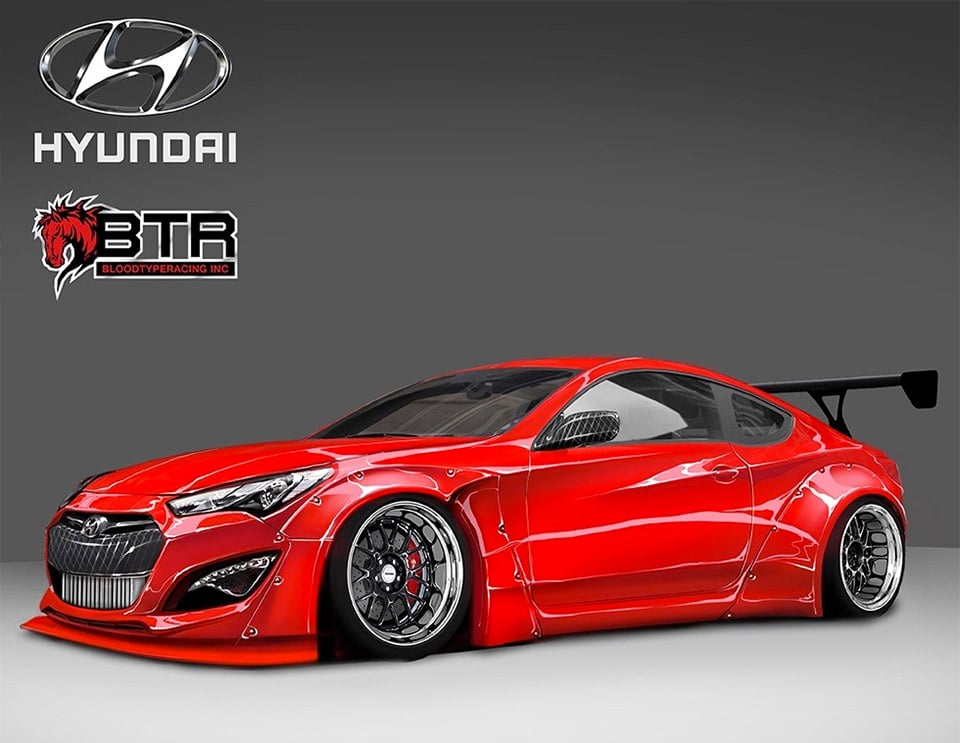 With the Hyundai Genesis Sedan having undergone a major revamp, it's only a matter of time before the Genesis Coupe gets a redesign. In the mean time, the current-gen Genesis Coupe is still a great car, and there's no reason to stop having fun with it. And what better place to show off a custom Genesis Coupe than during the upcoming 2014 SEMA show? Rocking a custom body kit by Kei Miura, the car looks awesome in its candy apple red paintjob and sporting a massive rear wing, huge wheel flares and ground-hugging aero effects.
Chicago's Blood Type Racing, Inc., has taken this stock Genesis Coupe and turned it into a monster. While today's stock Genesis Coupe has a 348 horsepower V6, BTR's Genesis is using Hyundai's earlier 2.0-liter turbo 4, and amped it up to produce over 800 horses at the rear wheels, and nearly 1,000 at the crank. To produce such impressive power, the car has been fitted with a serious twin-scroll turbocharger, intercooler, nitrous boost kit, oil cooler, and has had virtually every major engine part replaced, from the valves and pistons to the rods and cams.
The car also has an upgraded competition clutch kit, driveshaft and axles, as well as race-grade coilover suspension,  sway bars and performance brakes. Inside, it's been fitted with carbon/fiberglass racing seats, harnesses, and a roll cage.