Matte Gray 2011 Audi R8 V10 Spyder on eBay
audi | October 15, 2014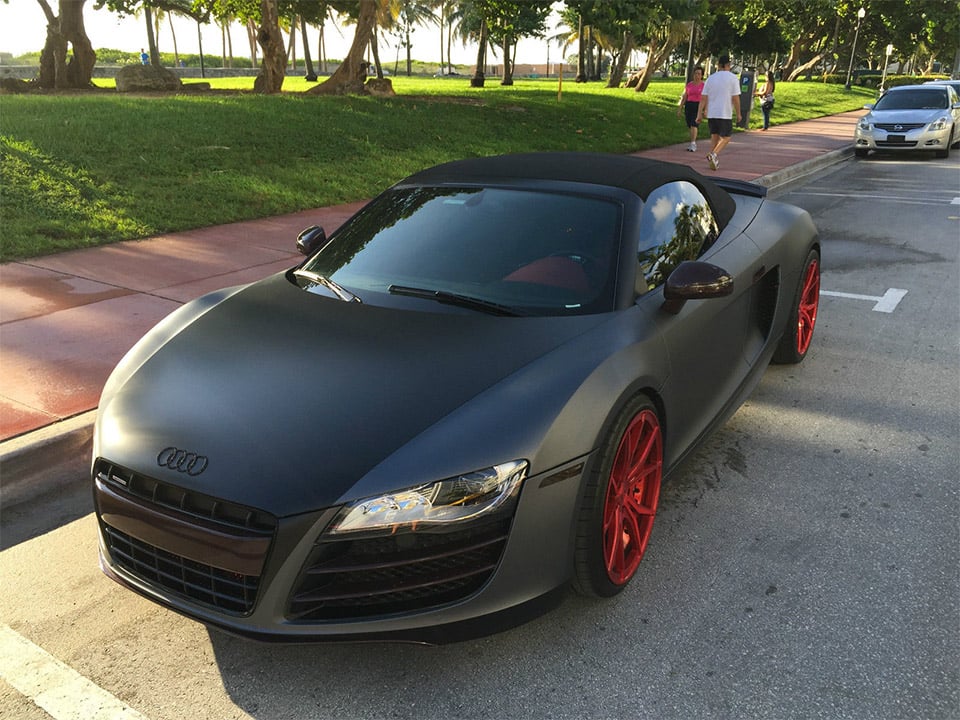 The Audi R8 V10 is a beautiful car in pretty much any color, but if you want to stand out a bit more when you're zipping around town with the top down, this custom show model may be just what you need. Available for sale on eBay, this 2011 Audi R8 V10 not only comes with the standard 5.2-liter mid-mounted V10, producing 525 horsepower and 391 lb-ft. of torque, but it also has a few outstanding finish features you won't find on the showroom floor.
Beginning with the car's eye-catching matte gray metallic wrap, this R8 will surely turn heads. And, since it's a wrap, you can return the car to its pristine black finish if you'd prefer. It's also fitted with red powder-coated forged wheels, has red carbon fiber accents both inside and outside (including the rear spoiler, engine vents, exhaust tips, rear diffuser, door handles, and center console). The stereo has been redone with a custom JBL stereo with custom LED lighting and a big subwoofer. And the interior has been redone in custom German leather and ultrasuede.
The seller claims to have more than $300,000 invested in the car. It's got a current bid of $160,000 USD with a Buy-it-Now price of $200.000. The auction ends on October 23, 2014 if you're interested.