The GR8 Audi Tee Design Contest
November 1, 2014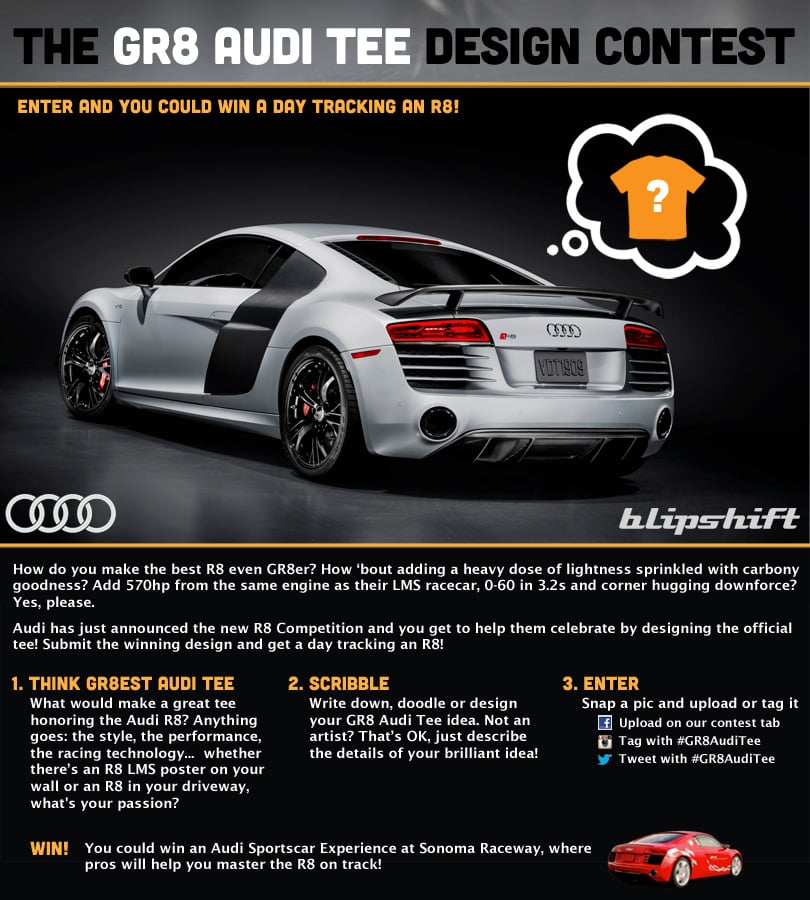 Blipshift, an online store that sells some great automotive-inspired t-shirts and other goodies, is holding a contest to help them design a new t-shirt to honor the stunning Audi R8 competition. And the winner will get a certificate for the "Audi Sportscar Experience – R8 Exclusive – Introduction" driving course — worth nearly $1,900(USD).
As a participant in the Audi driving program, you'll get behind the wheel of an R8 on the track and professional driving instructors will take you through a series of lessons and exercises behind the wheel (including four 30-minute lapping sessions) to improve your driving skills.
To enter the contest, just submit your design to blipshift by uploading it to their Facebook contest page or tagging it on Instagram or Twitter with the hashtag #GR8AudiTee. And you don't even have to be an artist to enter. You can submit a sketch of your design, doodle it on the back of a napkin and upload a photo, or even just describe your design if you have no talent whatsoever. Check out the contest and the full rules here.
Entries must be submitted by November 6, 2014 at 10:00 PM Eastern Time and voting ends 24 hours later.