Chevrolet Shows Three Pickup Concepts at SEMA
chevrolet | colorado | sema 2014 | silverado | November 4, 2014
---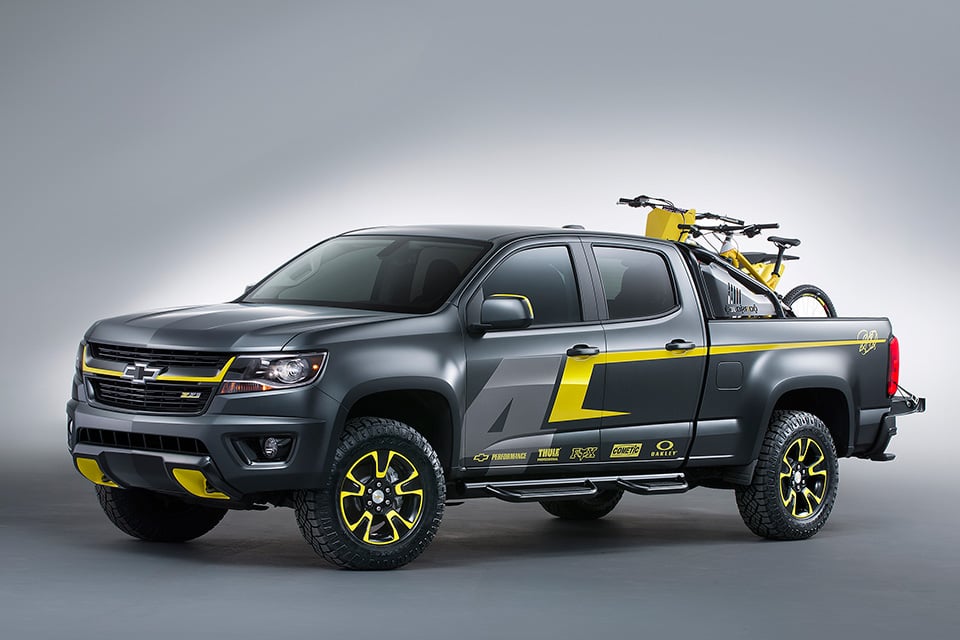 Chevrolet rolled into the SEMA 2014 show with three new pickup concepts to share, two based on the Colorado midsize pickup and one on the full-size Silverado.
Colorado Performance Concept
The Colorado Performance concept is designed to demonstrate the capability of the midsize pickup to be used to enhance an active lifestyle. The Colorado's cargo bed is shown to carry both a motocross bike and a mountain bike. The 6'2″ cargo bed has plenty of room and, with the tailgate down, the length extends to eight feet. The concept is shown with a tailgate extender in place to allow for the longer cargo. It's also showing concept mounting features that are integrated into the pickup and are designed to hold larger items such as bikes, boards and kayaks above the bed, leaving room for smaller gear such as tents and sleeping bags in the bed.
The truck is shown in matte grey with high-gloss silver and yellow accents. The 17-inch aluminum wheels are also accented with yellow highlights and fitted with Goodyear Duratec off-road tires. The yellow accents are carried over into the interior, with the #4 of motocross rider Ricky Carmichael, who collaborated on the design, embroidered on the front seat headrests.
Chevrolet Silverado Polaris ACE+ Concept
The full-size Silverado Polaris ACE+ concept conveys the message that the Silverado is built to work. Shown with a new Polaris ACE, a single-seat, sit-in off-road vehicle, being transported comfortable in the truck's 6'6″ bed. The truck is shown with large 33-inch off-road tires, so it's ready to get you to remote destinations to begin your ACE adventures. The bed-mounted sports bar is shown with custom LED lighting and a front nudge bar and the truck bed has a spray-on bedliner to protect everything from mud, rocks and debris.
The truck is shown with a black exterior and blacked-out trim with accent graphics that match the colors and design of the Polaris ACE.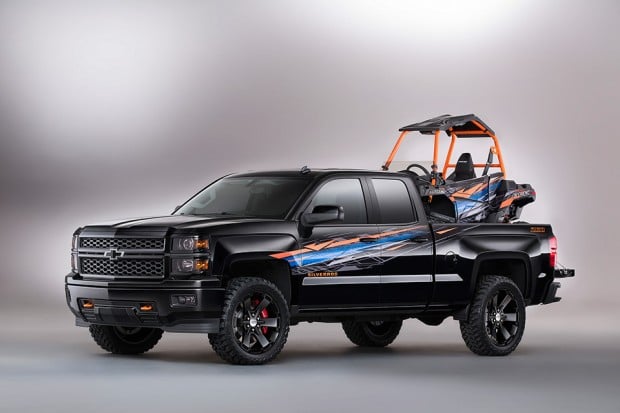 Chevrolet Colorado Crew Cab Concept
The Colorado crew cab concept is paired with a matching Super Air Nautique 210 ski boat and custom matching boat trailer. Finished with an orange metallic flake paint and a black hood and roof, the new concept is eye catching, to say the least. The boat and trailer come in at around 5,200 pounds — well within the Colorado's towing capacity of 7,000 pounds.