2015 Audi RS Q3 Compact SUV
audi | November 7, 2014
Audi recently introduced its compact Q3 SUV to the United States – a car we really enjoyed when we reviewed it. But if you're not satisfied with the standard Q3's 200 horsepower 2.0-liter turbocharged 4-cylinder engine and are looking for something that is sportier in pretty much every way, you should consider the more powerful Audi RS Q3, a compact SUV that's just been updated and refreshed by the German automaker.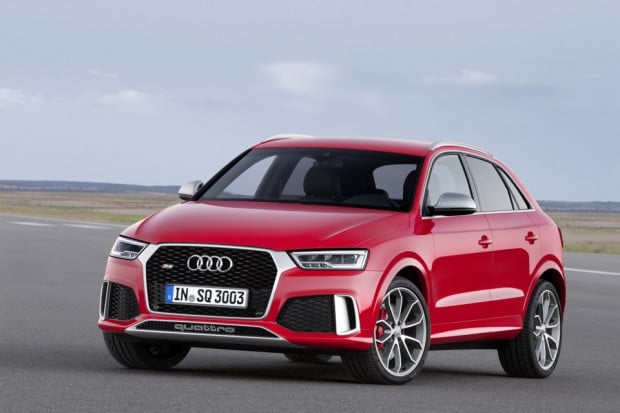 The RS Q3 begins with much more horsepower than its more subdued brethren, with a 2.5-liter five cylinder engine that produces 340 horsepower and 331.9 lb-ft. of torque. Thanks to the more powerful engine, the RS Q3 can get you from 0-to-100 km/h (62 mph) in a quick 4.8 seconds. This is quicker than the previous model RS version and the car also improves on that version's fuel economy as well (up to 28 mph as measured in the US). And the sports features aren't just about a more powerful engine; the RS Q3 also has a seven-speed S tronic transmission that comes with a new 5th generation hydraulic multi-plate clutch which provides even faster gear changes. It's also fitted with an RS exhaust system with a switchable flap that adds even more volume.
The sporty SUV comes with standard 19-inch wheels although 20-inch wheels are an option. The standard RS sport suspension can also be configured with optional adaptive dampers and Audi's drive select dynamic handling system is standard. Base price for the new RS Q3 is 56,600 euros (~$70,300 USD) with deliveries beginning in Q1 of 2015. No word yet on whether we'll see this sportier Q3 in the United States.