Volvo Pits an FH Truck Against a Koenigsegg One:1
koenigsegg | volvo | November 11, 2014
Volvo took professional racing driver Tiff Needell to the track for a head-to-head competition that hardly seems fair. Needell drove the latest Volvo truck: the Volvo FH with its new I-Shift Dual Clutch transmission – something Volvo equates to a truck with a "sportscar under the hood." His competitor was Robert Serwanski, who got behind the wheel of the Koenigsegg One:1, a megacar with 1,360 horsepower at the ready.
While the Volvo FH is the world's first large truck with a dual-clutch gearbox and the heart of a sportscar, it's hardly something one would choose to take on a race track. But Needell pushes the eight ton truck pretty hard around the corners and seems ready to take on the One:1. The challenge was that the Volvo could complete one lap of the track in less time than the Koenigsegg could complete two. You'll have to watch to see which vehicle won the challenge. Frankly, I think they should've instead had a challenge to see what vehicle could take a washer/dryer combo around the track quickest.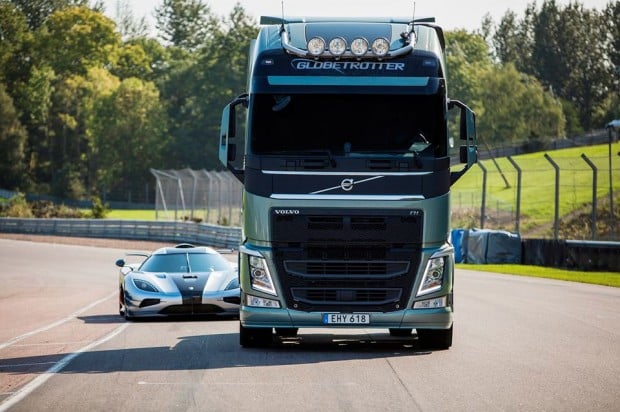 And check out the behind-the-scenes video below to see what went into making the film, along with Needell's reaction to participating in the event.