2016 Mercedes-Maybach S600
maybach | mercedes-benz | November 22, 2014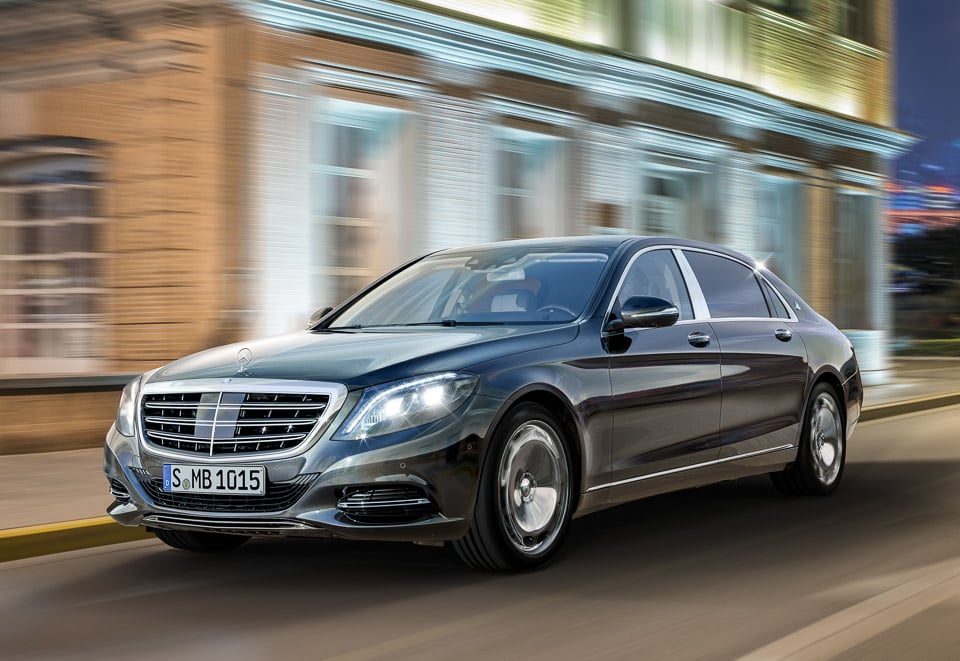 As previously revealed, Mercedes-Benz is bringing back the Maybach brand, though this time as a premium sub-brand of MB itself. The first vehicle to be bestowed with the vaunted Maybach moniker will be the 2016 Mercedes-Maybach S600.
The opulent Maybach S600 is a modified version of Mercedes' already very luxurious S600 S-Class Sedan. It's been bestowed with an addition 8.1 inches in both overall length and wheelbase, which should provide a more comfortable ride as well as more room for passengers. Powered by a 6.0-liter bi-turbo V12 engine that makes 523 horsepower and 612 lb.-ft. of torque, the car can zip from 0-to-60 mph in just 5.0 seconds, with a top speed of 155mph – not too shabby for something that amounts to an executive limousine. Naturally, the car inherits all of the capabilities that make the standard S600 what it is, including Magic Body Control, torque-vectoring braking, and Mercedes' substantial safety and tech offerings.
Additional enhancements include aircraft-style reclining executive seats for both left and right rear passengers, as well as premium grade materials throughout the cabin. A panoramic sliding sunroof is standard, and can be fitted with Magic Sky Control – which doesn't actually control the sky, but does allow you to change the glass from light to dark electronically. Fine wood trim and quilted Nappa leather abounds, and even the clock on the dashboard is special – designed by boutique watchmaker IWC Schaffhausen. It also sports a high-end Burmester surround sound system, which has 24 speakers, 24 discrete channels, and a total 1,540 watts of power. Because wealthy business executives love to crank it up to eleven.
Of course, it wouldn't be a loaded S-Class without Mercedes' cabin fragrance system, and this one comes with a special scent called Agarwood – described by Mercedes as follows: "The luminous golden warmth of resin marries with a striking woodiness, richly contrasted with smokiness." What do you mean it doesn't smell like money?
Pricing hasn't been announced yet for the Maybach S600, but you can bet it will cost substantially more than the $166,900(USD) Mercedes-Benz S600.