Truck Jumps over Speeding Formula 1 Race Car
formula 1 | stunts | November 24, 2014
It takes a daredevil attitude to jump a car off of a ramp in the first place. But to take an 18-wheeler off a ramp must really take balls of steel. Add to the challenge the fact that a Formula One race car is zipping beneath your hurtling semi as you go flying through the air, and it seems like downright insanity.
But where there's a will, there's a way, and Lotus F1 Team partner EMC worked with professional stuntman Mike Ryan to pull off this amazing stunt in which he drove a big rig onto a ramp, and let it go flying over an F1 car speeding beneath him. In the end, the stunt not only went off without a hitch, he broke the truck jump world record, flying over 83 feet, 7 inches before touching down. Though it does look like the truck lost a few pieces as it touched down. But it's the F1 driver beneath the truck that really deserves the accolades, as he had much more at stake than just bending the suspension on an 18-wheeler.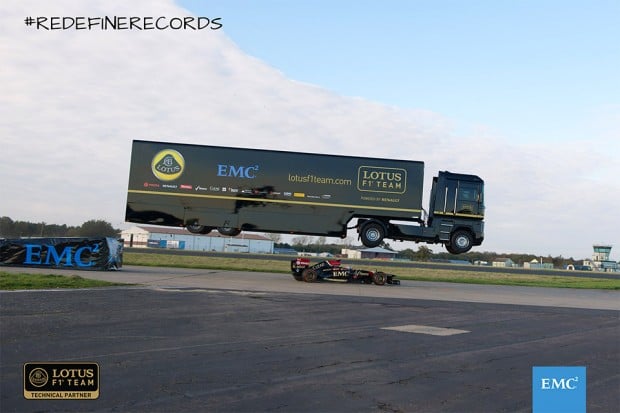 Check out the behind the scenes video below to see how they pulled off this amazing stunt.