Hennessey Unleashes Ford F-150 VelociRaptor 600
ford | hennessey | December 16, 2014
Hennessey Performance has plenty of experience amping up a wide variety of vehicles, not the least of which are their powerful truck mods. Now the performance tuning company is launching a modified version of the 2015 F-150 which promises to push the popular pickup truck to the next level.
The VelociRaptor 600 starts out as a 2015 Ford F-150 FX4 SuperCrew 5.0 V8, which ships from the factory with 385 horsepower. But once Hennessey gets their hands on it and supercharges the engine, the beast pushes out an incredible "600+" horses. Coupled with the F-150's new aluminum body elements, the truck is sure to have plenty of get up and go, and certainly looks like it could take on just about anything you throw at it.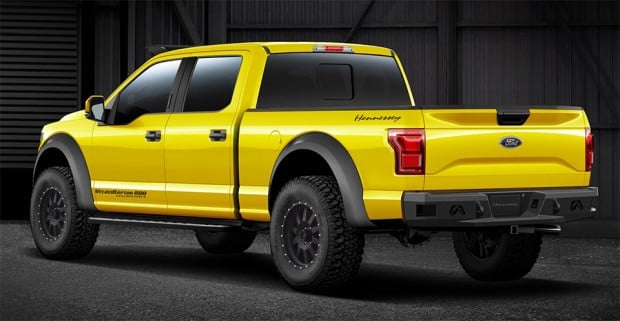 Other modifications include 17″ Hennessey wheels wrapped in rugged 33″ BFGoodrich tires, off-road coilovers, heavy duty bumpers, LED light bars, Brembo brakes and a winch round out the package. The completely modded truck will be sold through Ford dealers with a full 3-year/36,000 mile warranty and will sell for $73,500(USD) total.