Tesla Model S P85D vs. Lamborghini Aventador
cars | lamborghini | tesla | December 31, 2014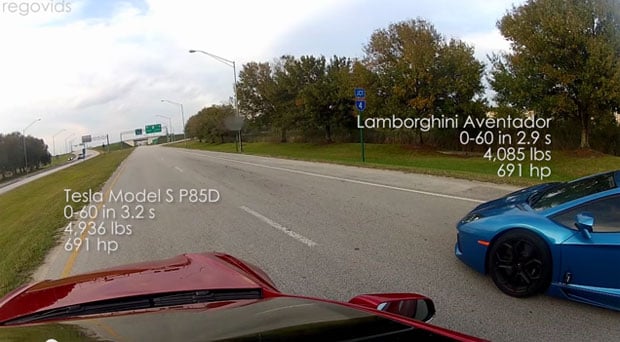 You might not ever think of the Tesla Model S P85D and the Lamborghini Aventador as being comparable. One of them is a rip-snorting Italian supercar that doesn't give a crap about fuel economy. The other is an all-electric, all-wheel drive car that burns no dead dinosaurs and produces no emissions. However, the P85D is a very impressive performer.
On paper, the two match up surprisingly well, the P85D produces 691hp matching the Aventador's 691hp exactly. The P85D will rocket from naught to 60mph in 3.2 seconds compared to the Lambo's 2.9 second 0-to-60 time.
The key difference between the two cars in terms of stats is one of weight. The Tesla P85D is a porker at 4,936 pounds; we can blame much of that weight on batteries. The Lambo tips the scales at a still heavy 4,085 pounds, but it is nearly 900 pounds lighter than the Tesla. Which car wins? Check out the video to see for yourself.