Land Rover Unveils Three Defender Special Editions
land rover | January 8, 2015
Land Rover kicks off a year of celebrations around the retirement of the iconic Land Rover Defender with the release of three limited edition models: The beautiful Autobiography Edition, the retro-styled Heritage Edition, and the bold Adventure Edition.
Autobiography Edition. The exclusive Autobiography Edition promises more performance, luxury and comfort than previous models thanks to a comprehensive equipment list, unique duo-tone paintwork, full Windsor leather upholstery and a power upgrade to 150 hp. Available in the UK and Europe from April 2015, the Autobiography Edition will be produced exclusively as a 90 Station Wagon and priced from £61,500 (~$92,800 USD).
Heritage Edition. The Heritage Edition is inspired by early Land Rover models and mixes nostalgic design cues with modern creature comforts. It's easily identified by its Grasmere Green paintwork and a contrasting white roof. A heritage grille and HUE 166 graphics, recalling the registration plate of the first ever pre-production Land Rover nicknamed "Huey", also identify the Heritage model. Heritage Edition models will be available in both 90 and 110 body styles. It hits showrooms globally in August 2015, and is priced from £30,900 (~$46,600 USD).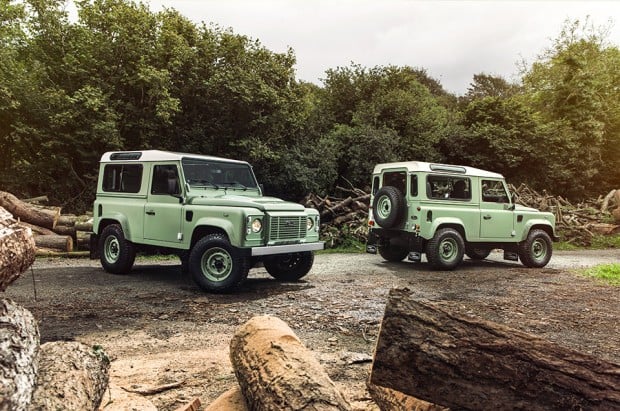 Adventure Edition. The Adventure Edition is aimed at Land Rover customers who enjoy playing in the great outdoors. It comes fitted with additional underbody protection and Goodyear MT/R tires to boost the Defender's all-terrain capability. Unique decals and a leather-trimmed cabin ensure the Adventure Edition stands out from the Defender crowd.Adventure Edition models will be available in 90, 100 and 110 body styles. The Adventure Edition will be available globally starting in August 2015, and is priced from £38,400 (~$57,900 USD).