Volkswagen Shows New Cross Coupe GTE Concept
naias 2015 | volkswagen | January 12, 2015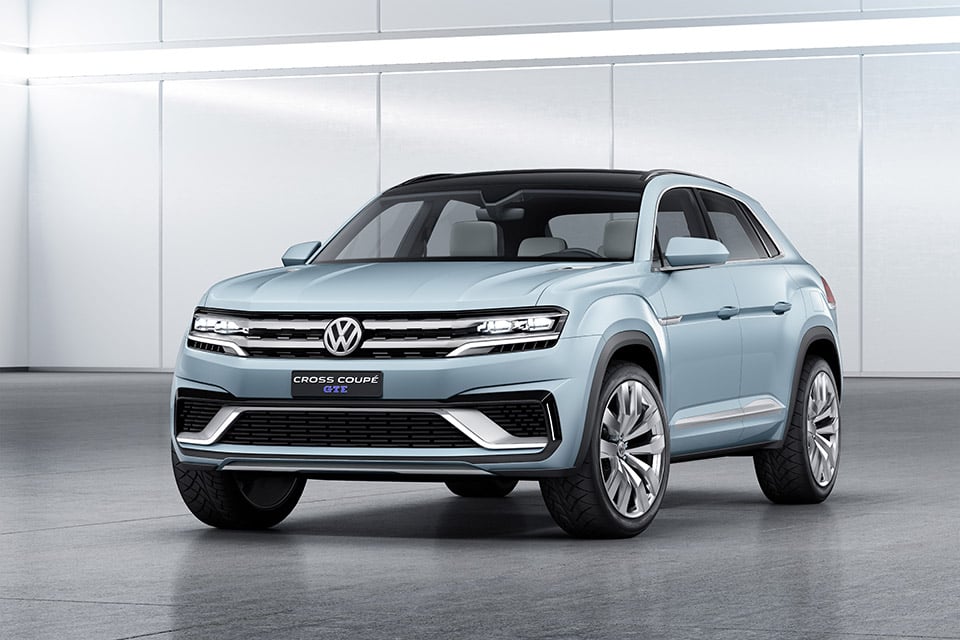 Volkswagen rolled into the 2015 Detroit Auto Show with a new mid-sized SUV to show off. The Cross Coupe GTE Concept is a mid-sized crossover that has room for five passengers and is shown with a hybrid drive system consisting of a 276 hp six-cylinder engine paired with two electric motors. But it's also meant to show VW's direction as it develops an important market entry: a three-row, seven-passenger SUV.
The Cross Coupe GTE shows VW's new direction for styling, with the German automaker stating that the front end seen on the vehicle should be considered a preview of the upcoming production vehicle. The concept shows a more aggressive fascia, with two aluminum bars across the grille, framed by LED dual headlights. The distinctive daytime running lights consist of four LED headlights plus four "LED light wings" to make for an easily recognized signature on the road.
Inside, the Cross Coupe GTE also shows VW's future styling, with a clean, horizontal design across the front. At the center is a 10.1-inch infotainment touchscreen that's accessible by either the driver or front-seat passenger. The concept also has a 12.3 inch display in the instrument panel that can be configured to display the primary gauges as well as other information for the driver.