Review: 2015 Hyundai Santa Fe Sport 2.0T AWD
hyundai | santa fe | January 31, 2015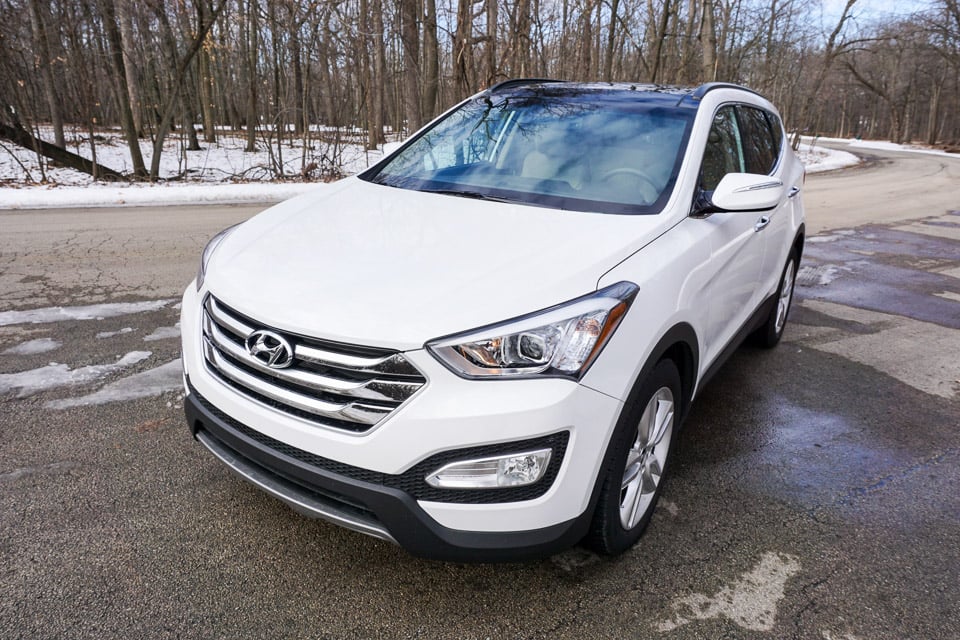 2015 Hyundai Santa Fe Sport 2.0T AWD

Powertrain: 265hp, 2.0L Turbo 4 Cyl., 6-speed automatic transmission
City/Hwy/Combined MPG: 18/24 (21 combined)
Curb Weight (lb): 3,706
Wheelbase (in): 106.3
Total Length (in): 184.6
Width (in): 74.0 (w/o mirrors)
Price as Tested (USD): $38,350
It's been a really long time since I drove a Hyundai Santa Fe. I actually owned one back in the early 2000s when they first came out, and while I was lured in by its value, it wasn't exactly powerful or well built. The third generation Santa Fe arrived back in 2013, and it's a far cry from the last one I drove. Hyundai is now making what is arguably one of the best mid-sized SUVs on the road today, offering comfort, utility, confident driving, and value. Plus Hyundai's build quality is at the top of its game these days. There are several models of the Santa Fe available, with the Sport 2.0T AWD Ultimate being the top of the line.
The exterior of the Santa Fe is clean and modern, with Hyundai's trademark hexagonal grille up front, flanked by sculpted headlamps. I like the premium look of the black body moulding along its bottom edge, and the aerodynamic spoiler atop the rear lift gate. On the outside, the Ultimate package adds HID headlights, LED tail lamps and 19″ alloys.
The Sport 2.0T offers the most powerful drivetrain available, with a 265 horsepower turbocharged 4-cylinder engine that pushes 269 lb.-ft. of torque to the wheels. This gives the Santa Fe more than enough passing power and responsiveness. In its AWD configuration, power is dynamically allocated to front or rear wheels for optimal traction, though there's the ability to lock them to a true 50/50 split. The AWD system also features torque vectoring by braking on its rear wheels, which dramatically improves cornering and reduces the amount of steering effort required in tight turns.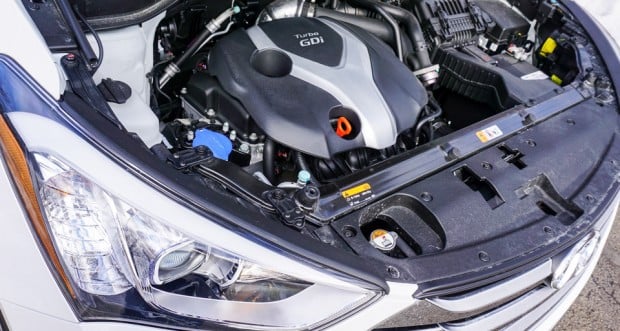 Handling is quite good for a vehicle of its size, with easy but responsive steering. I didn't notice much difference between its three adjustable steering modes, I left it in Sport mode most of the time, because it said "Sport," naturally. The Santa Fe's suspension is well-cushioned, erring on the side of comfort. That said, it isn't mushy at all, providing a reasonable amount of road feedback without jarring its occupants, and body roll is very well controlled for such a tall vehicle.
The Santa Fe also has downhill brake control and hill-start assist control systems so you can focus on steering driving up and down steep hills. Being in Chicago, I had no steep hills to test these features on.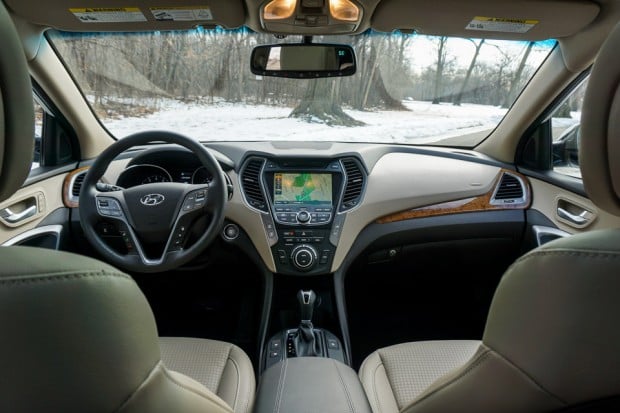 Inside, the Santa Fe is well equipped, offering tremendous value in comparison to more pricey luxury competitors. You'll find leather on the seats, steering wheel and shift lever, and in the Ultimate package, the comfy power front seats are heated and ventilated, while the rear seats offer heat. The dashboard and doors offer soft-touch surfaces, though they're made mostly of synthetics, including convincing, but faux woodgrain and metal bits.
There's also a dual-zone automatic climate control system, and keyless ignition with pushbutton start/stop. I especially appreciated the heated steering wheel as I drove the Santa Fe in the middle of the winter in Chicago, though I'd prefer that the control be on the steering wheel – its placement to the left of the wheel on the dash is a little cumbersome.
Overhead, a large panoramic roof lets you open and tilt the front section, and makes the already ample headroom feel infinite. Legroom is very good for both the driver and front seat passengers, while the rear seat is good, but just a little tight if you've got long-legged people sitting both up front and in back.
Speaking of the rear seat, it offers a 40/20/40 folding ability, providing lots of flexibility for carrying cargo in its cavernous rear. Even with the seats in use, you get a whopping 35.4 cubic feet of cargo space. Fold the rear seats, and it grows to an impressive 71.5 cubic feet.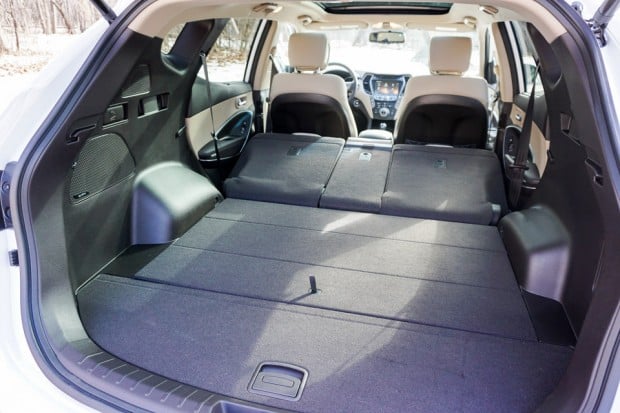 One neat trick up the Santa Fe's sleeve is Hyundai's hands-free automatic rear liftgate. Simply approach your locked car with your key fob in your pocket, and the rear parking sensors will detect your presence and automatically open the rear if you stand there for a few seconds. An audible alert lets you know it's about to open, and you can cancel by walking away or pushing a button on the key fob.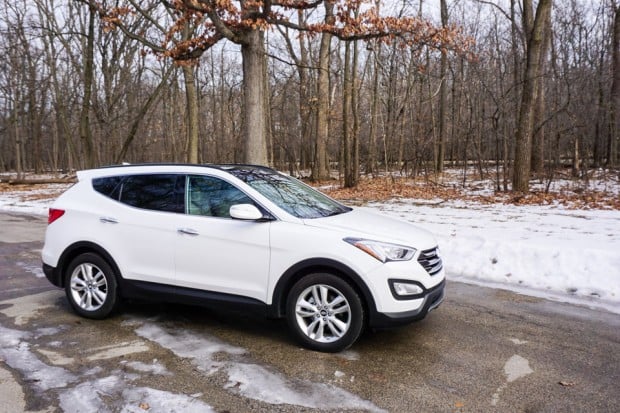 At the center of the dash is a large 8″ touchscreen navigation system, surrounded by a plethora of tactile controls. I'm a big fan of Hyundai's infotainment systems. They're some of the more intuitive and easy to operate on the market.I found the 12-speaker Infinity stereo system to be quite good, with exceptional volume, good imaging, and punchy bass.
Safety tech includes a backup camera with radar-based rear parking sensors, blind-spot monitoring with lane-change assist, and rear cross-traffic alert.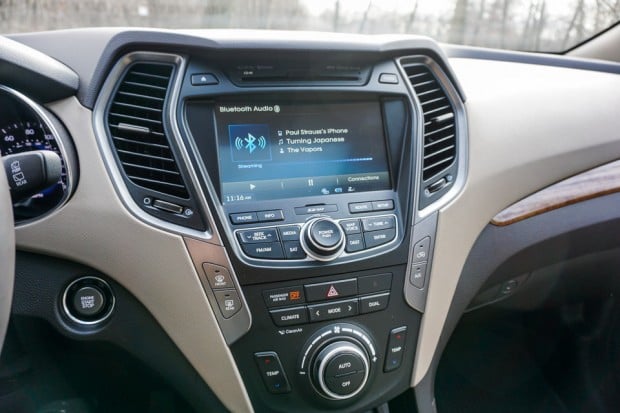 This was the first time I really checked out Hyundai's BlueLink service, which provides roadside assistance, voice text messaging, geo-fence alerts, and more. I especially appreciated being able to speak destinations and have them downloaded to the nav system. What makes this especially nice is that it grabs its address data from Google's search engine, so it's never out of date.
I highly recommend the 2015 Santa Fe Sport 2.0T AWD for anyone considering a mid-size SUV. It's a highly capable daily driver, offering plentiful space for passengers and cargo, lots of creature comforts, high-tech safety features, and surprisingly enjoyable driving dynamics. It also offers exceptional value, with similar power and amenities to vehicles like the Lexus RX, Infiniti Q70 and Range Rover Evoque, for significantly less money than these competitors.