Mercedes-Benz G63 & G65 AMG Crazy Color Edition
The Mercedes-Benz G63 AMG and G65 AMG are the sort of vehicles that are typically driven by wealthy sheiks or rap stars, so if you're going to flaunt your money, you might as well REALLY flaunt it, right? To that end, Mercedes-Benz will be offering the two vehicles in a new series of colors called the Crazy Color Edition.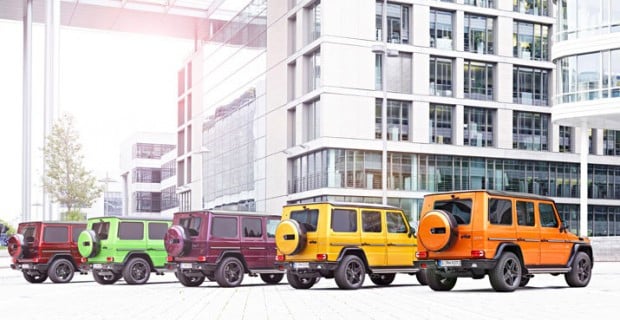 The Lambo-esque paint colors include Alien Green, Solar Beam, Sunset Beam, Tomato Red, and Galactic Beam, each of which adds anywhere from $17,000 to $23,000 to the base price of their G-wagons. Each color scheme includes matching contrast stitching on the interior as well.
At this point, the colors will be available in Europe and Russia, and there's no word as to whether or not they'll make their way stateside. I wonder if you'll be able to get the G63 AMG 6×6 in Alien Green? That would be the ultimate.