Jaguar & Land Rover in Spectre's Garage for Next Bond Movie
aston martin | jaguar | james bond | land rover | Spectre | February 9, 2015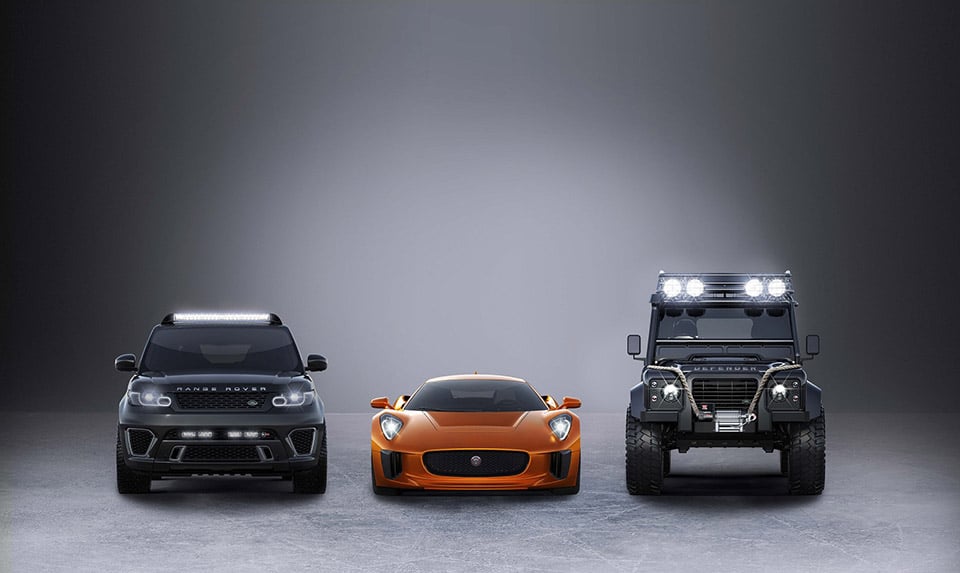 Though you may have to wait until November to watch the next installment in the long line of James Bond movies, at least you can drool over the latest photos of the evildoers' cars in Spectre. Venerable British automaker Aston Martin will stay with Mr. Bond, but Spectre gets to helm its fair share of head-turners: two rugged Range Rovers and an hyper-exclusive Jaguar concept car that apparently MI-6 can't even get its clandestine mitts on.
The Land Rovers consist of a 500hp Range Rover Sport SVR and a Big Foot Defender with enormous 37-inch rock-crushing tires that might give Daniel Craig's Bond second thoughts about approaching too closely. But it's the Jaguar that gets the most attention in the form of the CX-75 that never actually made it to production but still wowed the automotive world at the Paris Motor Show in 2010.
Even though it won't be propelled by the concept's original 850hp hybrid powertrain, its 5.0-liter V8 should be more than enough to go against Bond's Aston Martin DB10. The question remains as to whether or not viewers will be drawn to the dark side by Spectre's clearly scintillating rides.