Kia Trail'ster Concept Debuts in Chicago
CUV | hybrid | kia | February 12, 2015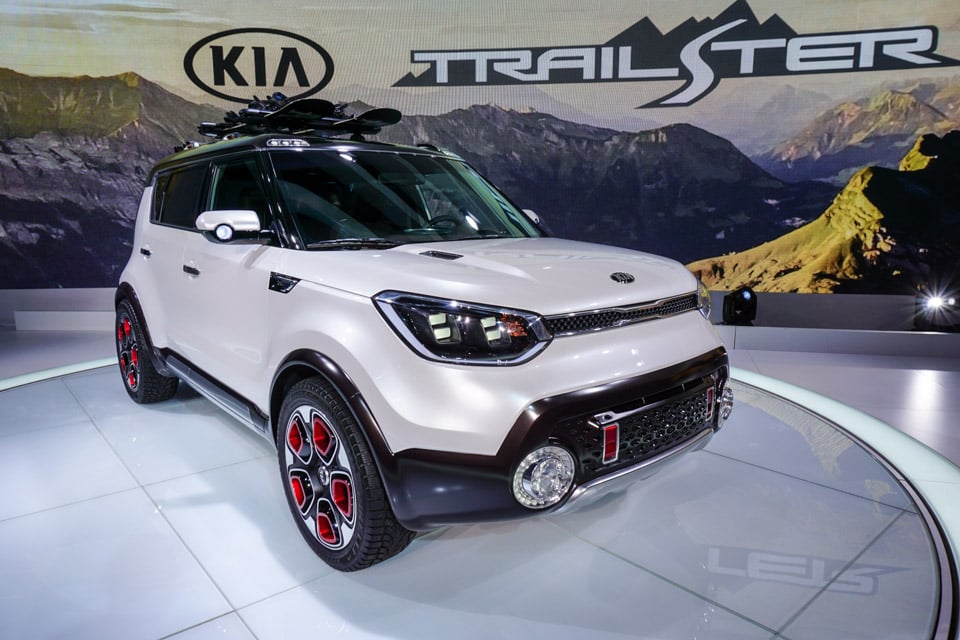 The Kia Soul has gone from its original quirkiness to a bonafide, environmentally conscious CUV looker in the form of the new Trail'ster concept, just unveiled at the 2015 Chicago Auto Show. Not only does it look sharper than the newly revised Soul, it also benefits from an electric motor and all-wheel-drive. It's also been blessed with a ride height that's been boosted by almost three inches, giving it a more masculine look without betraying its inherent cuteness.
Power comes first and foremost from a turbocharged 1.6-liter 4-cylinder good for 185 horsepower and 185 lb-ft. to the front wheels, mated to a 6-speed automatic transmission. A rear-mounted electric motor with 35 horsepower and 100 lb-ft. of torque drives the rear wheels when extra traction is needed. Total output with both powertrains is a not unimpressive 220 horsepower and 285 lb-ft. of torque, which should give the Trail'ster ample CUV zing. To boot, city mpgs will bump up close to 30 percent over the stock car. Also, expect better throttle response with the electric drive helping.
The handsome concept also gets a wider grille, LED headlights and front bumper off the Track'ster that we saw at the 2012 Chicago Auto Show, helping in the more aggressive looks department. No word on whether an actual Track'ster will make it to market, but you will see the new gas-electric setup in the Soul very soon, which is a welcomed addition to a great redesign.