2015 Cadillac ATS 2.0T AWD Premium Review
cadillac | February 15, 2015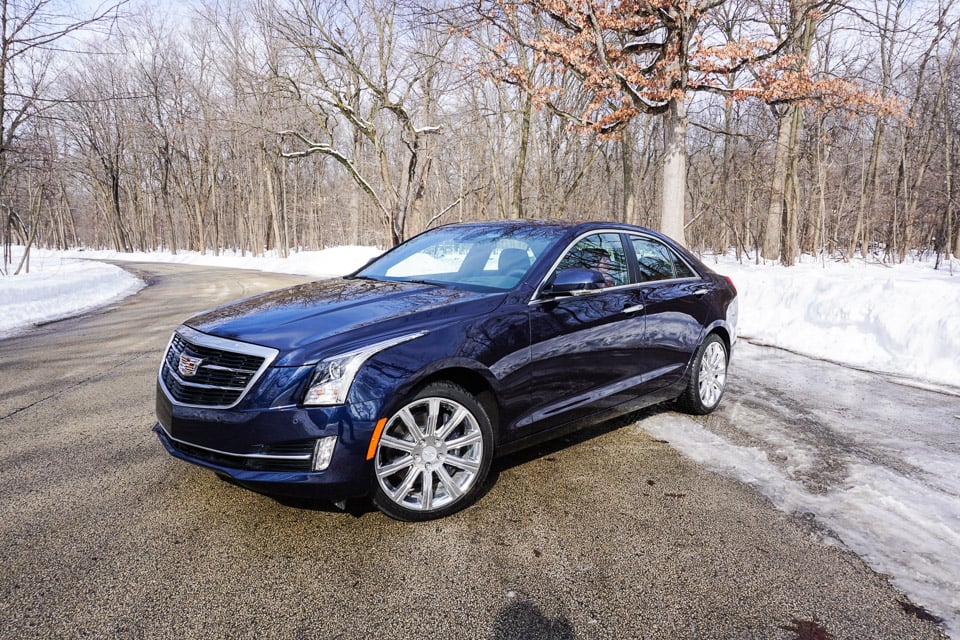 2015 Cadillac ATS 2.0T AWD Premium

0-to-60 Time (secs): 5.6
City/Hwy/Combined MPG: 20/28 (23 combined)
Curb Weight (lb): 3,542
Wheelbase (in): 109.3
Total Length (in): 182.8
Width (in): 71.1
Base Price (USD): $46,715
Price as Tested (USD): $54,330
I drove my first Cadillac ATS back in late 2013, and having tested so many other vehicles over the last couple of years, I forgot just how good this car is. The ATS is a sporty and luxurious mid-sized sedan that can instills a tremendous sense of confidence behind the wheel.
The styling of the ATS is bold and dynamic, with sweeping body sculpting that give it a sense of motion even when sitting still. One notable change from past model years is the large new Cadillac emblem on the grille, which I think looks better than the old design. The car rides on 18″ machined aluminum rims. Up front are adaptive HID headlights flanked by bright LED running lights. The LED illuminated door handles give this Caddy a unique presence when viewed from outside at night. Approaching the car from the rear, you'll find a pair of bright polished exhaust tips and LED taillights.
Under the hood of this ATS is a 2.0-liter turbocharged 4-cylinder direct-injected engine that produces 272 horsepower and an impressive 295 lb.-ft. of torque. That's up 35 lb.-ft. from last year's model, and you can feel it. Acceleration is very good, with the ability to go from 0-to-60 in just about 5.6 seconds. The base model comes with a naturally-aspirated 2.5L with 202hp, and a 3.6L V6 that packs 321 horses. That said, the 2.0-liter turbo strikes just the right balance of performance and fuel economy – I averaged just over 24 mpg for my mixed city and highway driving.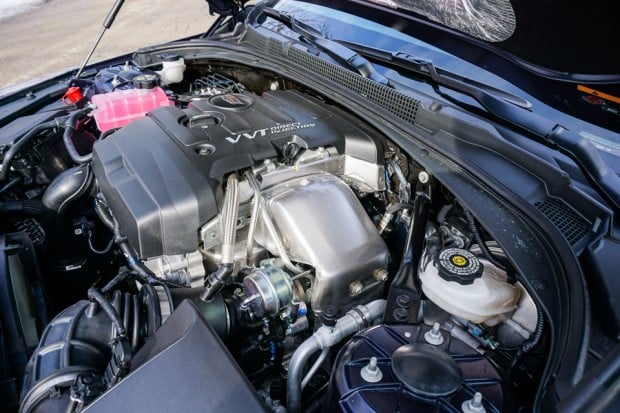 A six-speed automatic transmission with magnesium paddles provides smooth shifting, though the real star here is the ZF variable electric power steering. The system provides excellent feedback and offers sporty, nimble turning response. Coupled with an almost perfect 50/50 front to rear balance, an all-wheel drivetrain, and an independent rear suspension, the sense of control and traction is impressive. Brembo brakes help the ATS stop on a dime as well.
Whether driving on smooth pavement, or potholed urban roads, I found the ATS handled beautifully, providing a quiet and comfortable ride, but with enough feedback that I felt very connected to to the road. One minor note is the slight humming sound I heard from the tires at higher speeds – I'm guessing this is because the included all-season radials are run-flats. The car offers three selectable drive modes, one for touring which provides the smoothest ride and lightest steering, sport mode, which increases throttle response, tightens the steering, and snow/ice mode, which increases traction and control in slippery conditions. All three modes did what they say they would, though the differences between touring and sport modes are more subtle than you might think. That said, I spent most of my time in sport mode.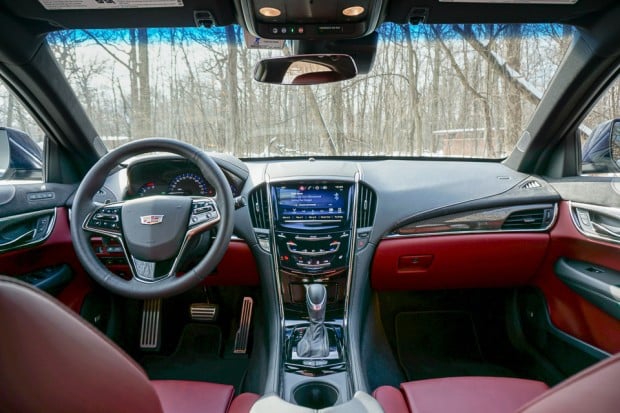 The interior of the ATS offers a great blend of sporty styling and luxury appointments. Soft leather covers the seats, along with color-coordinated door panels and lower dash – in my case in a rich maroon hue called Morello Red. Trim surfaces are a combination of hand-cut soft-touch materials, chrome accents, glossy black plastics, and a carbon fiber that mixes in a tiny bit of red to reflect the leather's color. Aluminum sport pedals and I was particularly impressed that other than the touchscreen, the glossy surfaces were largely resistant to my fingerprints.
The seats are comfortable and supportive, and headroom and legroom are very good overall for front seat occupants. Both front seats offer numerous power adjustments, and the driver's side has memory. My back, backside, and hands were especially happy on cold Chicago days, thanks to heated front seats and a heated steering wheel. The rear seats offer the same quality materials, and legroom is above average, if not spacious for long-legged passengers. You can also fold either side of the rear seats if you need to transport items that won't fit in the car's small 10.4 cubic foot trunk.
The center console features an 8″ multimedia touchscreen loaded with Cadillac's CUE system. This provides access to media, navigation, climate, phone, and other systems. The system seems snappier to me than it did when I first tested it a couple of years back, and it gets the job done. I'm still not a huge fan of the touch-sensitive "buttons" for radio volume and climate controls, as they don't provide the sort of tactile feedback I prefer. That said, there is a haptic "tap" effect to provide some feedback when using these controls, and I pretty quickly got used to them after a day or so of driving the car.
The car's Bose surround audio system offers good volume and clean, natural sound, as well as Bluetooth, SiriusXM and HD Radio capabilities. It also has active noise cancellation tech, which helps keep the cabin even more quiet. There's also a 4G LTE wireless hotspot, though there is a small monthly fee for using the service.
There's a neat bonus feature hiding within the center console too. Tap the metal trim under the climate controls, and a motor lifts the front so you can stash your smartphone inside. You'll find both a USB and wireless charging dock inside as well.
The instrument panel is equipped with a configurable 5.7″ display, which can show fuel economy, phonecall, media playback and navigation information. There's also a color heads-up display which offers a choice of speedometer, speed limit, tachometer, media or navigation info. The display also is used to provide visual feedback as part of its collision avoidance system.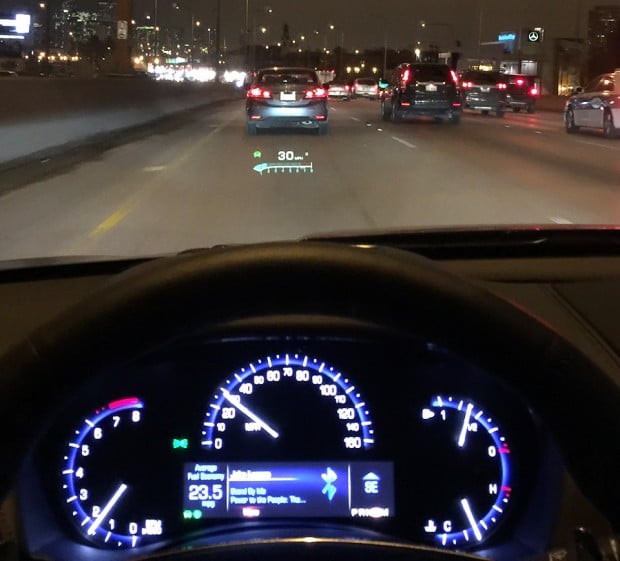 Speaking of safety, in addition to the aforementioned collision avoidance system, the ATS offers a bountiful selection of tech to help keep you safe behind the wheel. Features include a backup camera, adaptive cruise control, blind-spot monitoring, rear cross-traffic alert, lane-keep assist, and automatic braking assistance. Many of these features will alert you by vibrating the driver's seat, with left or right-sided directional cues. The windshield wipers even can automatically sense the rain and turn on just when needed.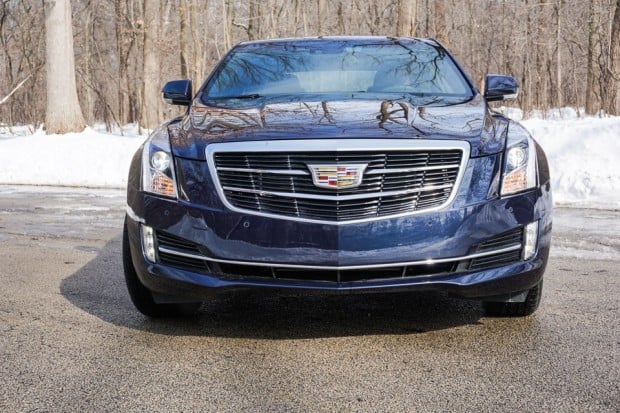 Overall, I loved my experience driving the Cadillac ATS. It accelerates well, handles impeccably, and is loaded with high-tech convenience and safety features. It also wears luxury materials and a great sense of style. If you're in the market for a mid-sized luxury sedan, the ATS should definitely be on your test drive list. And if you'd prefer a coupe, there's good news for you – Cadillac is now making an ATS Coupe too.