Group Takes Bets on Date this Saturn will Fall through the Ice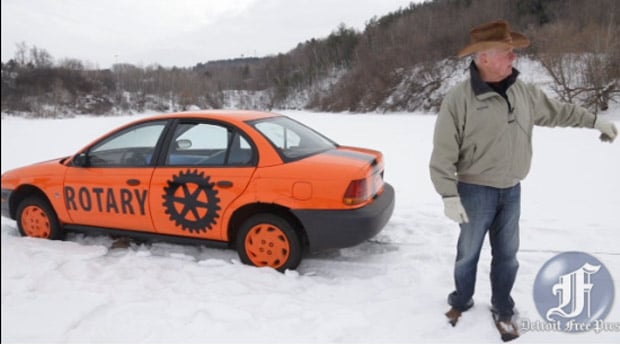 The Rotary Club in Iron Mountain, MI has a pretty cool contest going on right now. They dragged an old Saturn out onto the ice of a frozen local lake and parked it there. The person who correctly guesses the date that the car will fall into the lake as it melts wins $1000.
This isn't the first time the city has held this contest. The idea for the contest is about 70 years old going back to the '40s when local groups parked cars on the lake and took bets on when they would fall in. The lake itself is a flooded mine pit.
The rotary club did take steps to appease environmentalists. All the fluids were drained for the car and the drivetrain was removed. The car also has a metal cable attached to it on one end and a tree on the other that will allow them to haul the car out of the lake when the contest is over.
This seems like a much more fun way to determine the end of winter than watching to see if a groundhog has seen its shadow.