Review: 2015 Dodge Charger R/T Road & Track
dodge | dodge charger | February 22, 2015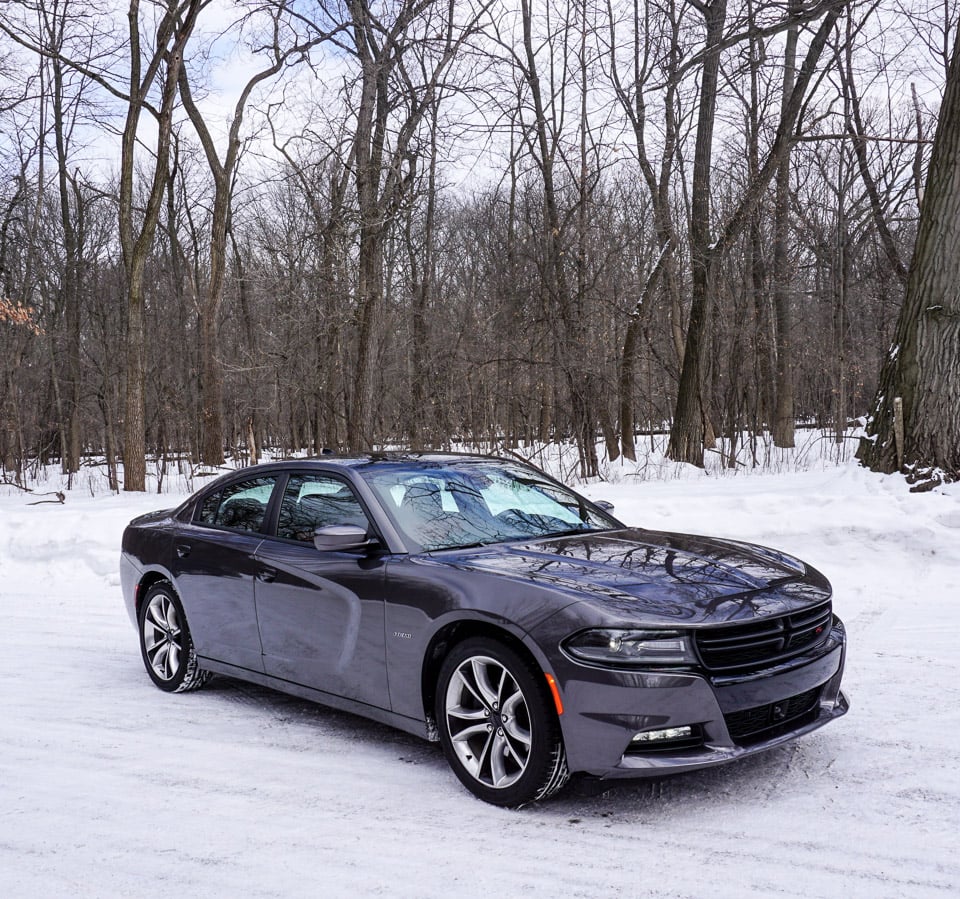 2015 Dodge Charger R/T Road & Track

Powertrain: 370hp, 5.7L V8 HEMI, 8-speed ZF automatic transmission
0-to-60 Time (secs): 5.5 (Est.)
City/Hwy/Combined MPG: 16/25 (19 combined)
Curb Weight (lb): 4,253
Wheelbase (in): 120.2
Total Length (in): 199.9
Width (in): 75" (w/o mirrors)
Base Price (USD): $35,995
Price as Tested (USD): $43,465
If I had to pick a single word to describe the 2015 Dodge Charger R/T Road & Track, it would be "brash," and I mean that in the best of ways. If I were permitted to use other words in my vocabulary starting with the letter "b," I'd also call it "bold," "beautiful," and "brawny."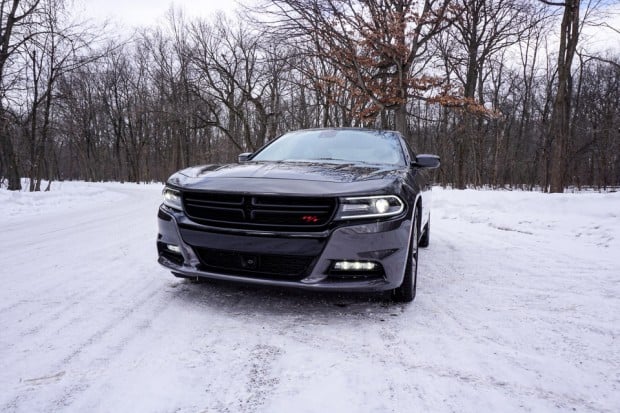 While the Charger has been back in the lineup for almost 10 years now, Dodge has been clear that they aren't resting on their laurels, and has continued to improve and refine upon what was already a pretty damned solid car. For the 2015 model year, they not only gave the Charger more aggressive and sleeker styling, and an upgraded interior, but are offering the car with the enormously powerful 707hp Hellcat V8 as an option. Dodge also offers a 6.2-liter, 485hp V8 in the SRT  392 model, but for most mere mortals, the 5.7-liter, 370hp, 395 lb-ft. torque V8 in the R/T Road & Track offers more than enough muscle.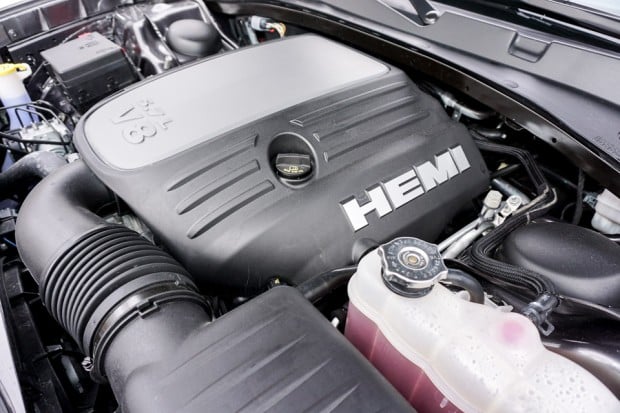 Shifting is achieved through a ZF-sourced 8HP70 TorqueFlight transmission, which is arguably one of the best and most versatile automatic gearboxes on the market today. Gear shifts are fast and smooth, though 1st and 2nd seem tuned for a real surge at the beginning of the torque curve – not that there's anything wrong with that. You just need to be judicious with your application of the gas pedal unless you've got plenty of runway in front of you. Fortunately, the dual-caliber 13.6″ performance disc brakes are more than up to the task of stopping you quickly.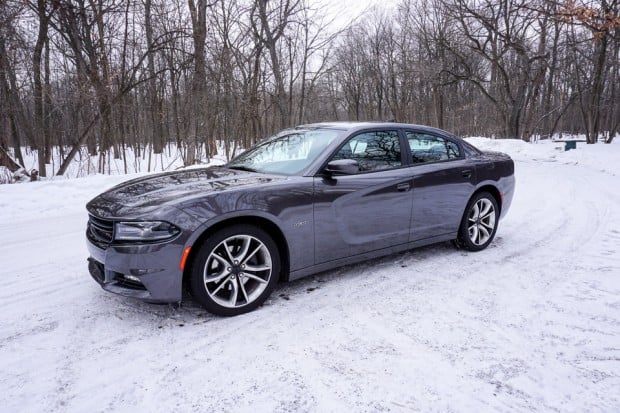 The car's electronic power steering is best described as neutral. In fact, it's about as neutral as it gets. It's responsive, but not overly light or heavy in any way. In concert with the upgraded sport suspension package, body roll is well controlled and the Charger handles better than you'd expect a car of its size and weight, partially helped by it surprisingly even 53/47 front-to-rear weight distribution. Road noise is well controlled, and the only sound that penetrates the cabin is the sweet roar of the HEMI.
Outside, the Charger has seen numerous refinements, with some subtle, and other not so subtle changes to the body panels. Of particular note is the bold new front end, which is decidedly sleeker and curvier than the outgoing model's. The black-on-black grille blends seamlessly into the sculpted HID headlamps, and the smoked grey lenses are a nice touch. Bright LED signature running lights wrap around them in a sort of "C" shape, and below you'll find some nifty new triple-beam LED fog lamps. The new 20″ aluminum wheels with blackout details look great too. In back, the spoiler has been more tightly integrated with the trunk lid.
The interior of the Charger has also seen some upgrades, with a new 7-inch digital gauge cluster, a new center console with a wide, easy to grip shift lever which illuminates to indicate its current position. There's also a new steering wheel with a trapezoidal center embellished with a sporty new Dodge logo, easier access to controls, and a pair of aluminum paddle shifters.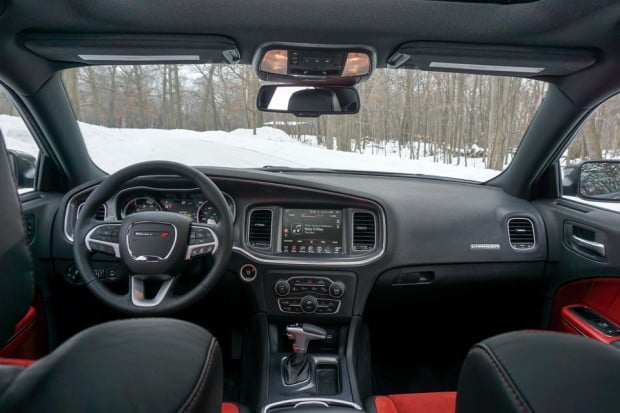 What really makes the interior of this particular car special are the awesome ruby red design elements, which can be found on the alcantara suede seats, quilted soft-touch door trim, armrests and accent stitching.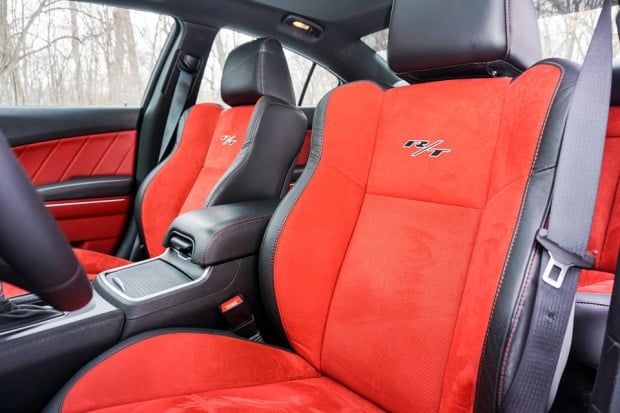 And the seats don't just look great, they're insanely comfortable. The large side bolsters provide tremendous support, but they're also thickly padded and hug your body in the turns. Both the driver's and front passenger's seats offer 8-way power adjustments and 4-way lumbar adjustments, and you can even adjust the gas and brake pedals to your desired position. Front seats are heated and cooled, while the rears are heated.
In the center of the dash, you'll find an 8.4-inch touchscreen multimedia system powered by uConnect, which provides Radio, Satellite and Bluetooth audio playback, hands-free calling, turn-by-turn navigation, and access to climate controls. It also serves a 4G wireless hotspot. Overall, I found the uConnect system to be intuitive to use and reasonably responsive to commands. The system also supports a plethora of voice commands for everything from tuning the radio, to selecting music tracks, to finding addresses and POIs to even changing the cabin temperature. One odd thing was that I could find no USB ports up front, but there's a 12VDC outlet in the dash and in the armrest, and rear seat passengers get a pair of USB ports. According to Dodge, there is a media hub with SD, and USB connectivity in the arm rest, but I didn't see it.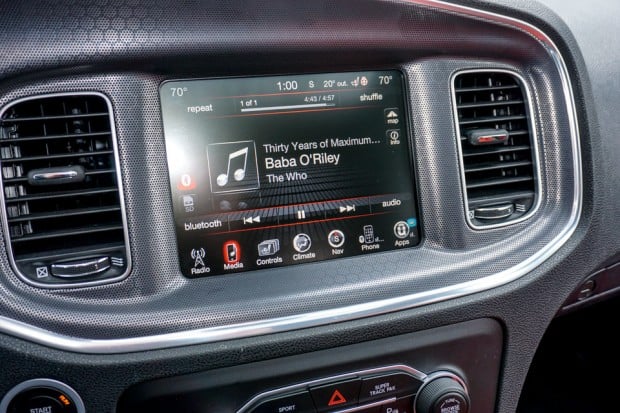 As part of the Road & Track package, the car comes with a suite of applications called the Dodge Performance Pages. These apps can automatically time dragstrip times, track G-forces, and provide detailed gauges on coolant and oil temps, oil pressure, transmission and engine temperatures and even the current amount of horsepower and torque being exerted. If I have any bone to pick with the Performance Pages, it's that there's about a 15 to 30 second load time from the time you select the app suite until you can use it. There's also a Super Track Pack mode which offers guided launch-control for optimal traction from a standstill. It also provides the ability to adjust which performance enhancements are activated in Sports mode, including transmission, steering and traction control settings.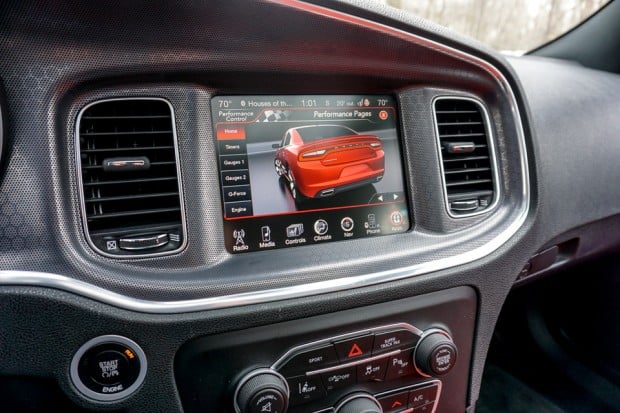 My car was also equipped with the Beats 10-speaker audio system. While I'm honestly not a big fan of their headphones, Beats knocked it out of the park with this system. It really sounds as good as many aftermarket stereos. The 552-watt amplifier produces a tremendous amount of volume without distortion, and a truly earth-shaking low end thanks to a generously-sized subwoofer mounted in the rear deck, and another in the trunk.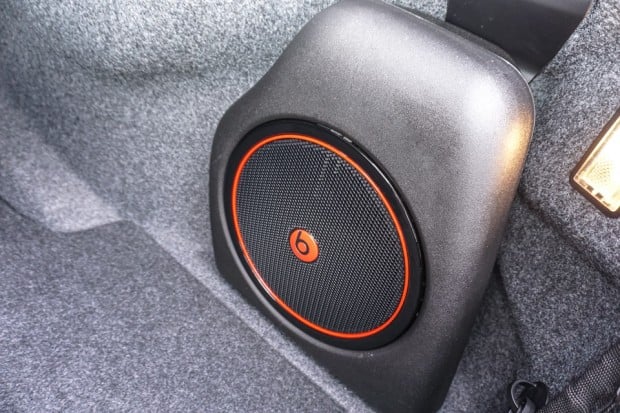 Speaking of trunks, the Charger has a nicely sized one, with about 16 cubic feet of storage space, along with the ability to split-fold the rear seats for added cargo capacity. There's also a nice cargo net to keep your grocery bags and small items from sliding around.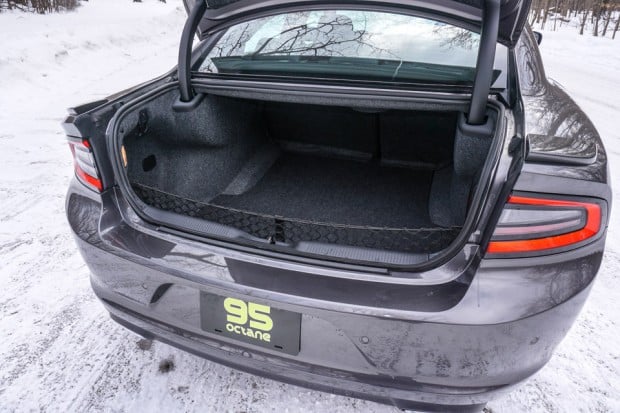 Assuming you go for the tech package, the Charger also packs a ton of modern safety features, including blind spot monitoring with cross-path detection, adaptive cruise control, forward collision warning, and lane departure warning with lane-keep assist. It's also got a backup camera and rear parking sensors.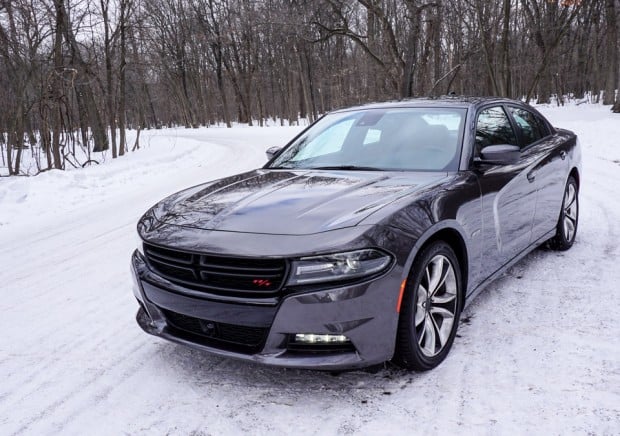 I really am a big fan of the new 2015 Dodge Charger. Equipped with a beefy HEMI under the hood, you can't go wrong with any of the V8 engines, and it handles quite well for its size. The car offers tons of creature comforts too. The interior is modern and extremely comfortable for both driver and passengers, and there's plenty of room, making the Charger a great family car for Dads who want a car they can drive the kids in, and still have some serious fun in on the weekends.