Review: 2015 Audi A3 TDI Diesel Sedan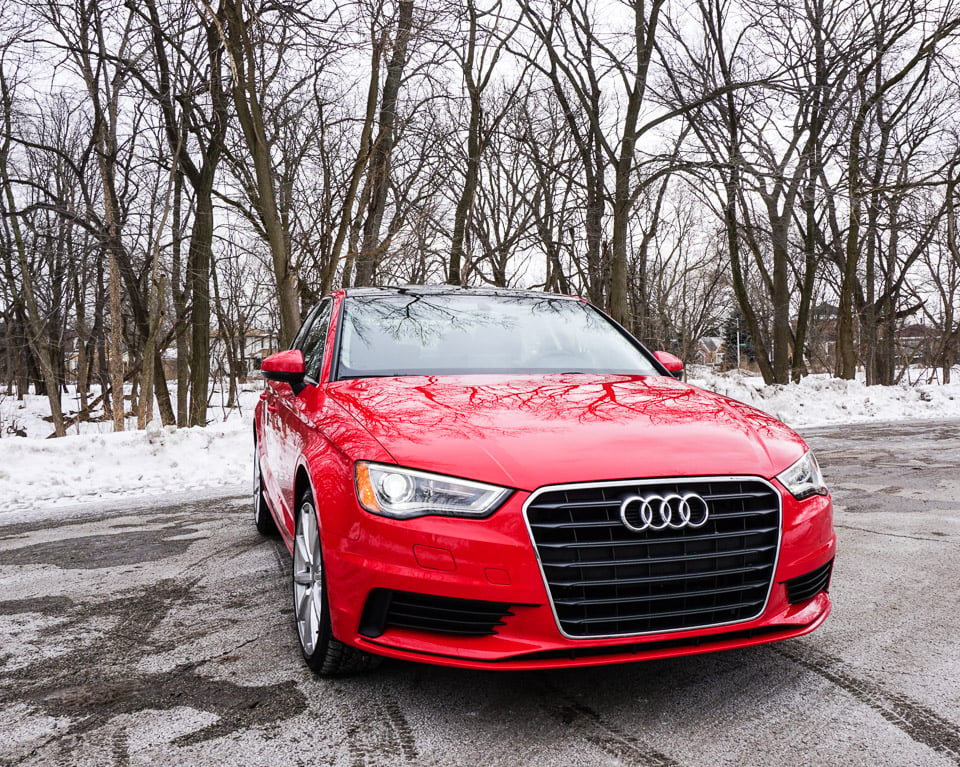 2015 Audi A3 Sedan TDI FWD

0-to-60 Time (secs): 8.1
Top Speed (mph): 130
City/Hwy/Combined MPG: 31/43 (36 combined)
Curb Weight (lb): 3,241
Wheelbase (in): 103.8
Total Length (in): 175.4
Width (in): 77.2 (w/mirrors)
Base Price (USD): $32,600
Price as Tested (USD): $38,645
The Audi A3 is a compact executive sedan that shares platform elements with the popular Volkswagen Golf, but with more upscale accoutrements and Audi's arguably more appealing styling. It looks especially put together in brilliant red and sporting Audi's black singleframe grille, aluminum-trimmed window openings, and riding on 18″ alloys.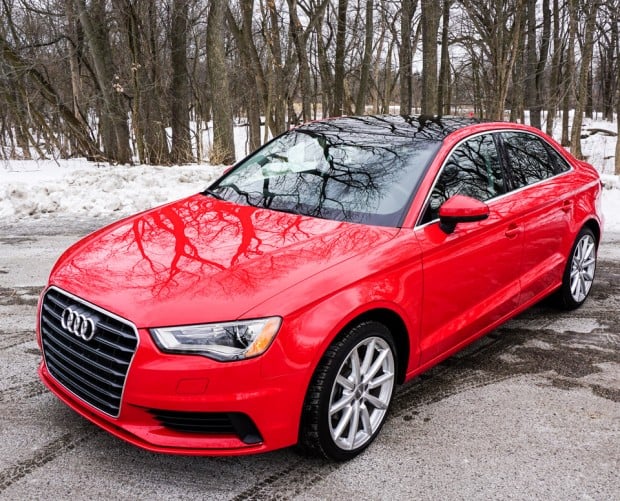 Equipped with a 2.0-liter turbodiesel engine that outputs 150 horsepower, the car offers excellent fuel efficiency while still being peppy. Combined with a six-speed dual-clutch automatic transmission, the car shifts quickly and smoothly, with good get up and go in the lower gears, thanks in large part to the diesel's impressive 236 lb-ft. of torque – that's V6 territory.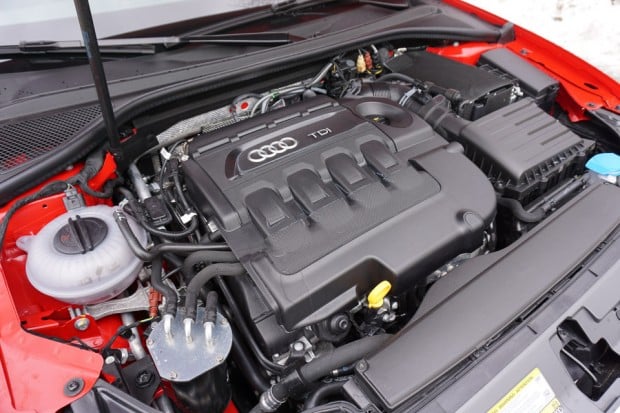 The ride in the A3 is firm, but not harsh, providing good road feedback. Personally I prefer a firm ride to a mushy one, so I'm happy with Audi's decision on this front. Steering feels solid and controlled, with minimal torque steer – an impressive feat given the high-torque, front-wheel drive configuration.
One of the main selling points of a diesel engine is its fuel economy compared to gas engines. The A3 TDI delivered on this front. In my real-world tests which mixed start-and-stop city, highway and rural driving, I averaged an above-sticker 38mpg. With a 13.2 gallon tank, you should have no problem going 450 to 500 miles between fill-ups. Keep in mind that diesel engines do take some time to warm up, and fuel efficiency suffers while the engine is really cold.
There were actually instances where I achieved over 60mpg on roads that required only a small amount of throttle to maintain a comfortable cruising speed. And I'm not talking about just coasting, there's just enough torque being pushed out with minimal throttle input to cruise along at 35 to 45mph.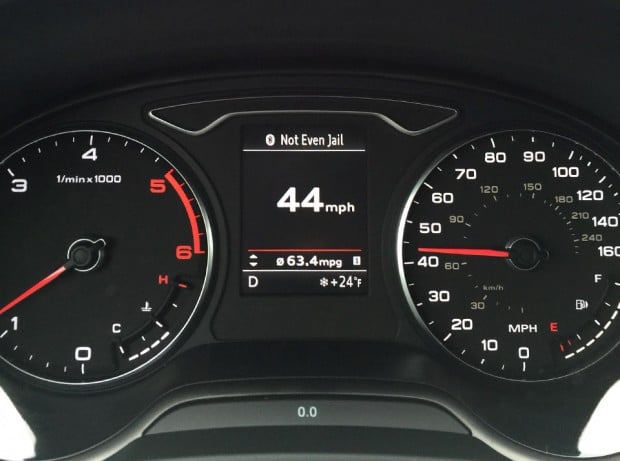 The interior of the A3 is nicely designed, with a clean and minimal design aesthetic that's intentionally spare on the variety of materials used. The seats, steering wheel and shift knob are wrapped in leather, while other surfaces are a combination of black plastics and aluminum trim. I especially like the design of the air vents, which have a kind of aeronautical style to them. Overhead, there's a larger than normal sunroof, and its retractable shade actually lets some diffuse light through.
The cabin is quiet as a mouse, with the only sound permeating being that of the diesel engine's rather throaty sound. The only things I want to hear in a luxury car's interior are the engine and the stereo, so we can check off that box with the A3.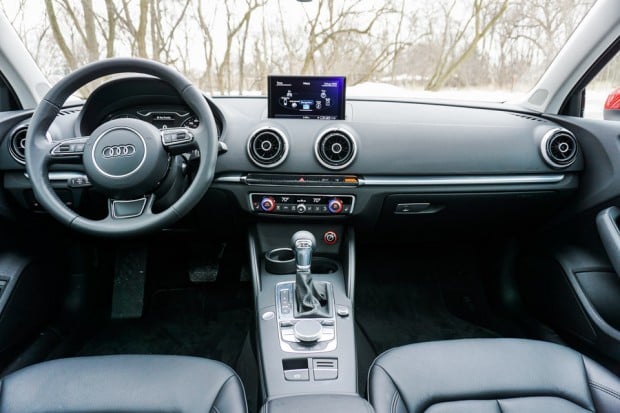 The A3 doesn't come standard with much in the way of high-tech safety bells and whistles. Sure, there are numerous air bags, anti-lock brakes, and active safety belts, but if you like whiz-bang safety tech, you'll have to pay extra. The optional Driver Assistance package which adds side assist, a rearview camera, and front and rear parking sensors wasn't equipped on my review car.
Controls are well placed, and if there's one thing Audi knows about interiors it's about ergonomics and pragmatism. In the middle of the dash sits Audi's MMI screen, which neatly retracts into the dash when the car is turned off – or if you choose to hide it.
Speaking of the MMI system, it's quite intuitive, despite the lack of a touchscreen. Everything can be controlled easily from a single scroll wheel that's flanked by four contextual buttons, and there are tactile controls for activating the radio, media, nav, and telephone menus. There's also a nifty touch surface in the middle of the scroll wheel which can be used to enter addresses and to authenticate to Audi's online services by simply sketching letters with your fingertip.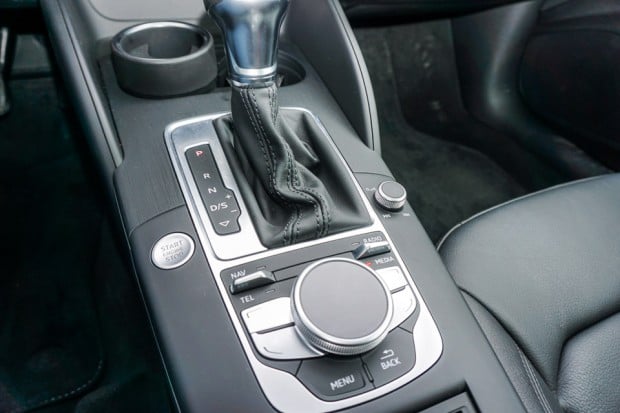 In addition, the navigation system gets the benefit of maps provided by Google, which include satellite imagery. The available Audi Connect apps include weather, fuel prices, flight information, Facebook and Twitter integration, and a 4G/LTE hotspot.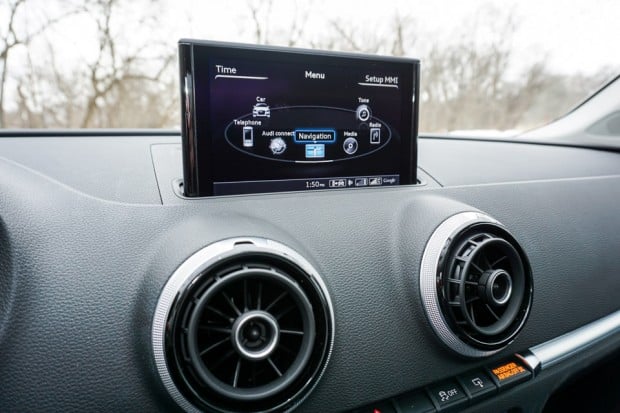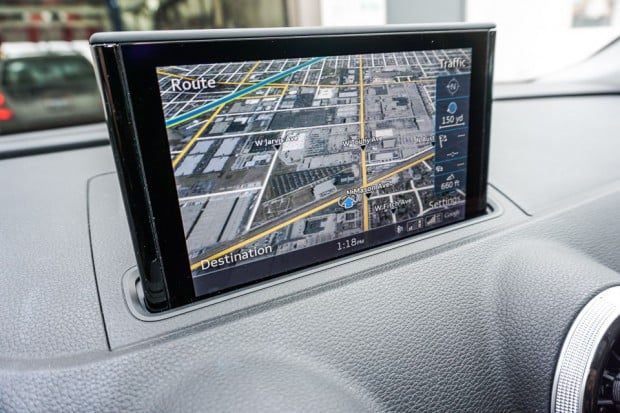 Legroom and headroom is very good for front seat passengers, though the rear seat is a bit cramped for taller passengers – especially if a tall passenger is riding up front. That said, there's plenty of room in back for small adults or kids. The rear seats also fold down in a 60/40 split configuration to increase cargo capacity, and there's also a passthrough door for skis or other long items.
I really did enjoy driving the A3 TDI. It's a little spartan compared to some of the other cars in the same price range, but the A3 is also the least expensive way to get into the Audi line today. It's a fun and well-styled little car that's very practical too. It gets exceptional mileage in its TDI variant, and has very enjoyable driving characteristics.