All-Terrain Conversions Makes Raptor Accessible
For many years, people who have limited mobility have had few choices in terms of the sorts of vehicles they could ride in. But the guys at All-Terrain Conversions(ATC) have gone above and beyond the call of duty with their customized trucks and SUVs for people with disabilities. One of their recent conversions is this Ford F150 Raptor that's been cut open so someone in a wheelchair can ride in this powerful off-road pickup truck.
The entire passenger side of the Raptor has been revamped to open up gullwing style, and then the passenger seat lowers to ground level. The passenger can then pull his or her wheelchair right up to the seat, slide onto it, and then be lifted up into the cabin. The whole operation takes under 45 seconds, including the time it takes for the side of the truck to close.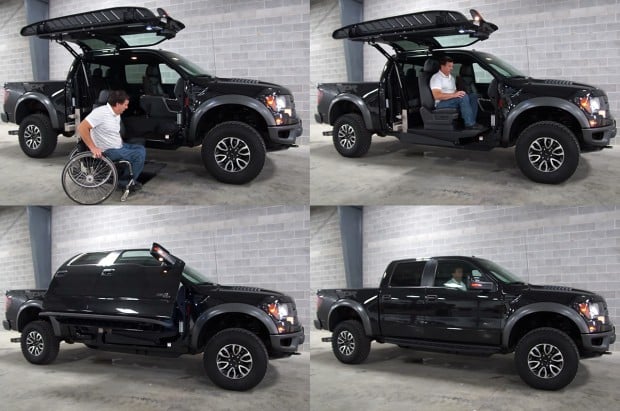 The setup shown is designed for someone with a driving companion to take charge of the wheelchair after the passenger has gotten in, but it looks like they've done similar mods for solo drivers where they wheelchair itself acts as the seat. It's an incredibly impressive feat, and ATC should be commended for their work. Great job guys!