Review: 2015 Audi S5 Coupe 3.0T quattro
audi | March 26, 2015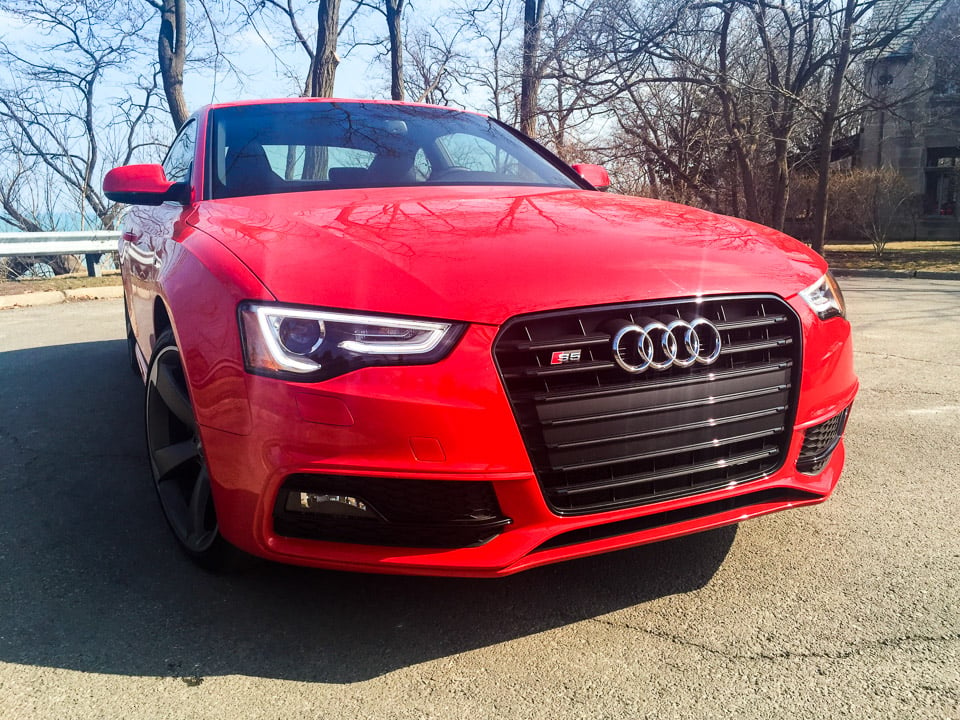 2015 Audi S5 Coupe 3.0T quattro

Powertrain: 333hp 3.0L Supercharged V6, 7-speed S tronic dual-clutch transmission
0-to-60 Time (secs): 4.9
Top Speed (mph): 155
City/Hwy/Combined MPG: 18/28 (21 combined)
Curb Weight (lb): 3,858
Wheelbase (in): 108.3
Total Length (in): 182.7
Width (in): 79.5 (w/mirrors)
Base Price (USD): $53,900
Price as Tested (USD): $63,025
Audi's S5 Coupe manages to be a real powerhouse while looking clean and sophisticated. Its styling does a great job communicating that it's a performance vehicle without resorting to the typical "sport" accessories like tacked-on spoilers and overdone ground effects. Instead, its got a sort of understated confidence and and it wears it well.
While the S5 shares its platform with the A5 daily driver, you can immediately pick the S5 out in a crowd, thanks to its distinctive singleframe grille, quad tailpipes, and of course the S5 badging throughout. And if you buy one in Misano Red pearl, riding on 19″ titanium wheels like the one I drove, there's no question that it's a sports car.
Under the hood is an exceptional engine – a 3.0 liter Audi TFSI V6 that's been supercharged to produce 333 horsepower and 325 lb-ft. of torque. A 7-speed S tronic dual-clutch transmission offers fast gear transitions with its flappy-paddle shifters, though the car can also be had with a 6-speed manual. Either setup should get you from 0 to 60 in just about 4.9 seconds – less on a good day. Trust me when I say this car is fast.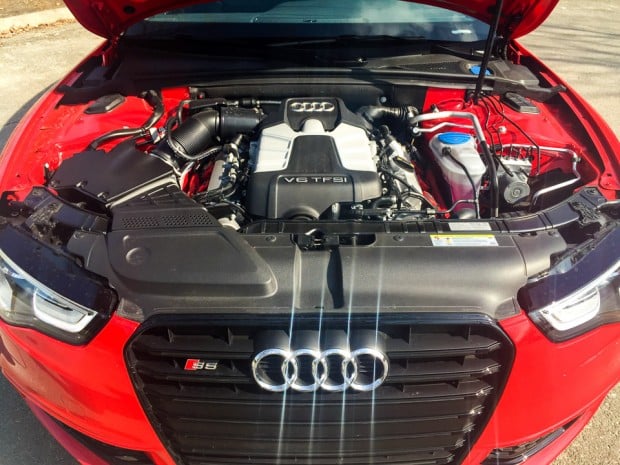 Acceleration is stellar, with great power across every band, and the whirr of the supercharger is something that can truly be appreciated when you put your foot to the floor. I also love the "whoomp" sound the dual-clutch gearbox makes when aggressively downshifting. Since the S5 is a bit on the front-heavy side and rocks an all-wheel drivetrain it has a tendency to feel like its pulling you forward down the road, which takes a bit of getting used to if you're coming from a rear-wheel drive sports car, but its setup offers greater confidence in slippery and snowy situations. And for those times that you want to hit the track, there's always the sport differential option, which can dynamically shift power to the rear wheels when you're driving aggressively.
Cornering is very good as well, with surprisingly little understeer despite its front-biased weight distribution. Again, this is a place where the sport differential helps a bit, since it delivers torque vectoring to the rear wheels to help round out the corners. Road feel in the S5 is excellent, with a firm ride that's incredibly connected to the road, but not harsh.
Audi's Drive Select system lets you customize the dynamics for the engine, transmission, steering, sport differential, and uhm… engine sound. That last one always bugs me, but I never felt that the engine sound in the S5 seemed artificial. What exactly that setting does, I don't know, but I'm just going to bask in the knowledge that the supercharger sounds spectacular when it kicks in, and there's nothing fake about that.
Inside, the S5 is like a sharp-dressed businessman. The D-shaped sports wheel, embossed Nappa leather seats and S5 badged shift lever look great, and the real aluminum and black wood inlays dress the place up like a fancy pinstripe suit. Like most Audis, the interior errs on the side of steak over sizzle, but it gets the job done just fine. That said, I'd love to see some more premium materials on the dash and doors.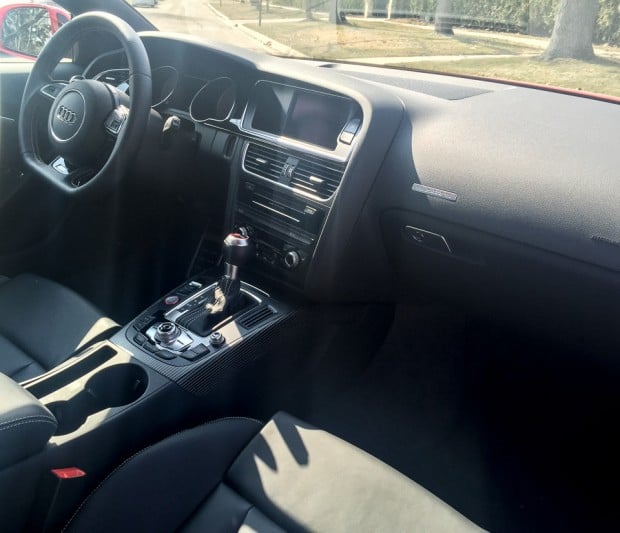 The front seats offer heat, and plentiful power adjustments, and are quite comfortable. I can't tell you how the rears are because I couldn't fit back there, nor could most adults who aren't also contortionists. The rear seat is strictly for kids, pets, or keeping your insurance premium lower than a 2-seater. It does fold in a 60/40 split at least so you can expand your cargo space if needed. Floating overhead is a huge panoramic moonroof – though it only opens to vent, and doesn't slide open.
You can (and should) outfit the S5 with the Tech package, including Audi's solid MMI multimedia and navigation system, which offers Google Earth integration and Audi Connect online services. You also get a rearview camera, backup sensors, and Audi Side Assist blind spot monitoring. I particularly like the way that Audi integrated the alert LEDs into the mirror frames.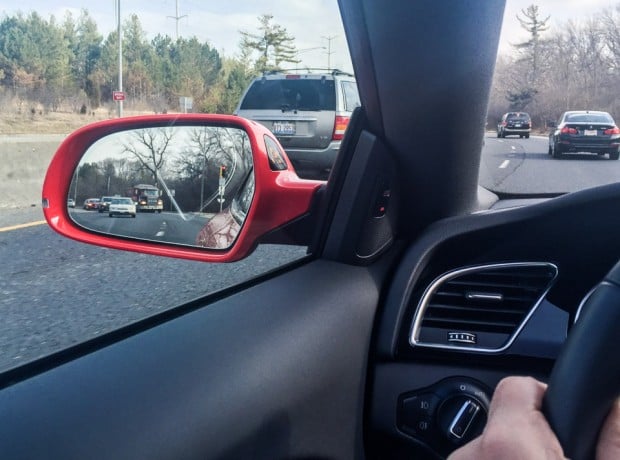 The Audi S5 is a really great sports car, but is also an able-bodied daily executive driver. It packs a huge punch under the hood and can drive like a bat out of hell. Its clean, modern lines are a welcome departure from overdone sports cars, and it's really comfortable – at least if you're sitting in the front row.