Alpina Celebrates a Half-Century with the B5 & B6
alpina | bmw | BMW 5-series | BMW 6-series | April 1, 2015
Automotive tuners extraordinaire Alpina have hit their milestone 50th anniversary, and the Bavarian company is celebrating with the release of not one, but two very limited-edition BMWs. Only 50 each of Alpina's B5 and B6 Edition 50 beasts will roll off their Buchloe production line. Boasting what Alpina terms its "bi-turbo" twin turbocharged 4.4L V8, these cars crank up to 600hp and 590lb.ft of torque for a claimed 0-100 km/h time around 4.2 seconds.
Alpina is releasing the B5 in a saloon and a touring model, which is a station wagon, something we can't honestly fathom the tuner crowd will clamor over. If we had enough walking around money to purchase one of these exquisite machines, we'd be looking at the B6, which comes as a coupe as well as a convertible we covet. We couldn't find a large enough image of the convertible to share here, but you can see an artist rendering at the Alpina site.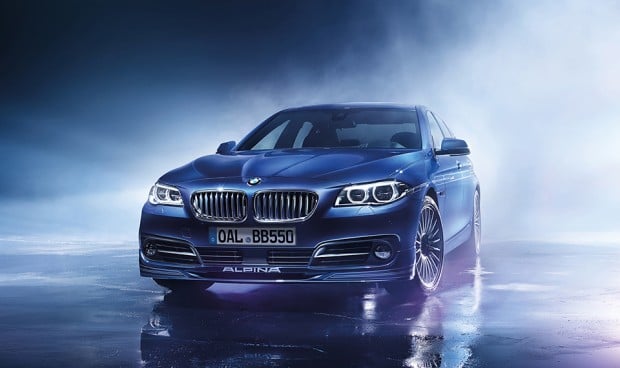 Thanks to a laundry list of hardware and software mods, Alpina ensures that all that horsepower connects smoothly to the pavement via their sophisticated "SWITCH-TRONIC" 8-speed sport automatic transmission. No surprise, every detail inside and out is lovingly crafted: forged aluminum wheels, Brembo high-performance brakes, titanium exhaust, ceramic finish for controls, and Merino leather interior including the instrument panels, with the seats upholstered with a nod to Alpina's B7 S Turbo Coupe from 1982. But words don't do these cars justice: enjoy the photos and video.
And happy birthday, Alpina!