Tanner Foust's 900hp V8-Powered VW Passat
formula drift | passat | tanner foust | volkswagen | April 10, 2015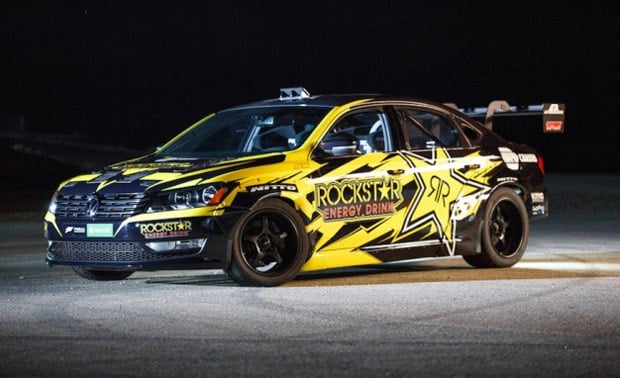 I love it when someone takes a car that isn't fast to begin with and makes it stupid fast. That is exactly what has happened to this unassuming VW Passat. Nothing about a normal Passat screams performance, but Tanner Foust has a new Passat Formula Drift car that will spend its life destroying tires with a massive amount of power.
This car has a massive V8 crammed under the hood that cranks out 900hp. That is enough power to get all the sideways action. It also has a giant rear wing and an appropriately obnoxious Rockstar livery on its flanks. Check it out in action in this clip from GT Channel:
That monster V8 under the hood is a 450ci unit backed by a four-speed dog-type transmission. It has racing seats, a roll cage, and sticky tires. It looks like it might kill you at any second. I want one.