550hp Ford Taurus SHO is an Awesome Sleeper
ford | sleeper | taurus | April 17, 2015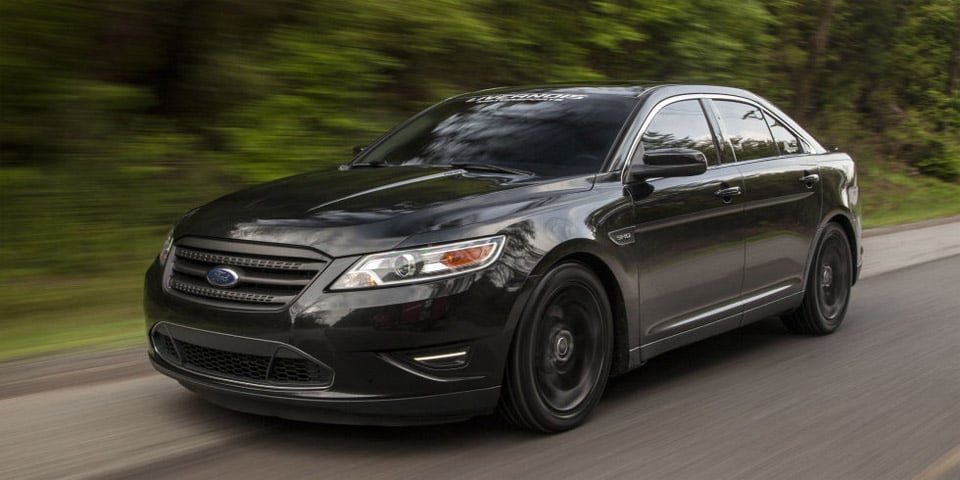 A few years back, I spent a few weeks testing the Ford Taurus SHO in its first iteration on the modern platform. I thought it was a great car and the only thing I didn't like about it was the price. Now that there are some on the used market, I admit I have been thinking one would be very nice to have. I would absolutely drive the crap out of this 550hp modified SHO owned by Curtis Haley.
The beast produces 600 lb-ft. of torque and looks like your grandma's grocery getter – or maybe a generic cop car – on the outside. From the factory, the AWD car made significantly less power at 365hp. The extra power comes from some massaging by High Velocity Motorsports in Knoxville, Tenn.
The car got new downpipes, and an alcohol injection system at High Velocity. It was then shipped to Livernois Motorsports for a full Corsa exhaust and a new intake along with a MAP sensor for adjusting the boost. The result is 550hp and crazy amounts of torque on stock internals and a stock auto gearbox. I have to wonder how long those bits will hold up under all that power.