Paul Walker Fast & Furious Supra Hits the Auction Block
auctions | fast and the furious | toyota | toyota supra | April 21, 2015
For all the automotive eye candy in the Fast & the Furious series, few cars hold as hallowed a place as the modded orange Toyota Supra that helped launch Paul Walker to superstar status in The Fast and the Furious. The car should have gotten co-star billing, appearing throughout the movie, "smoking"- to paraphrase Dom – a Ferrari F430 in the scene above, and jumping a railroad track just ahead of a charging locomotive.
Now Mecum is auctioning off one of the numerous Supras built by Eddie Paul at the Shark Shop in California for the movie. Befitting the beating a stunt car takes during filming, the Supra is outfitted with a roll cage, heavy-duty suspension, reinforced fuel cell, and competition seats. It also boats a Bomex body kit, Sparco steering wheel, Yokohama tires, Daz wheels, and the memorable Modern Image body graphics from the film.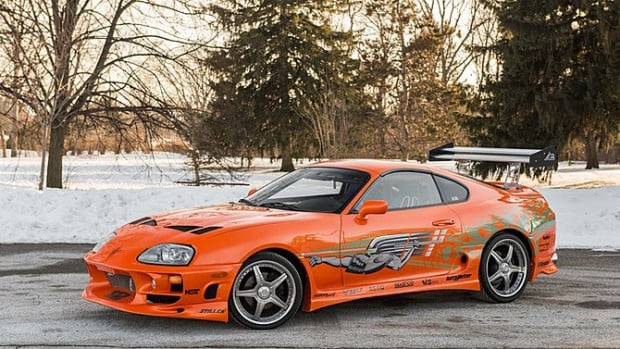 Unlike undercover cop Brian O'Connor's twin turbocharged, heavily modified Supra – which cranked 544 hp and hit 60 miles per hour in 3.4 seconds, according to The Fast and the Furious wiki – you won't be blowing any Ferraris off the line in this Supra. Mated to a 5-speed transmission, the 3.0L, 220hp inline-6 engine is not turbocharged, so the Supra's performance statistics are unlikely to be either fast or furious.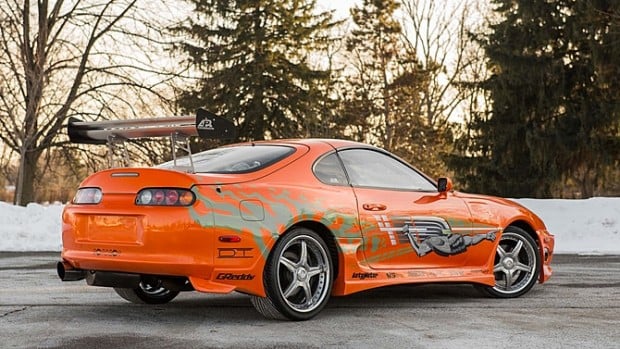 Still, Mecum is offering a chance to own part of a legendary car film franchise – one closely identified with the late star Paul Walker, missed by all of the series' fans. That is, if you can afford the expected $150,000 to $200,000 final bid at the gavel.