Review: 2015 Range Rover Sport HSE
land rover | range rover | April 27, 2015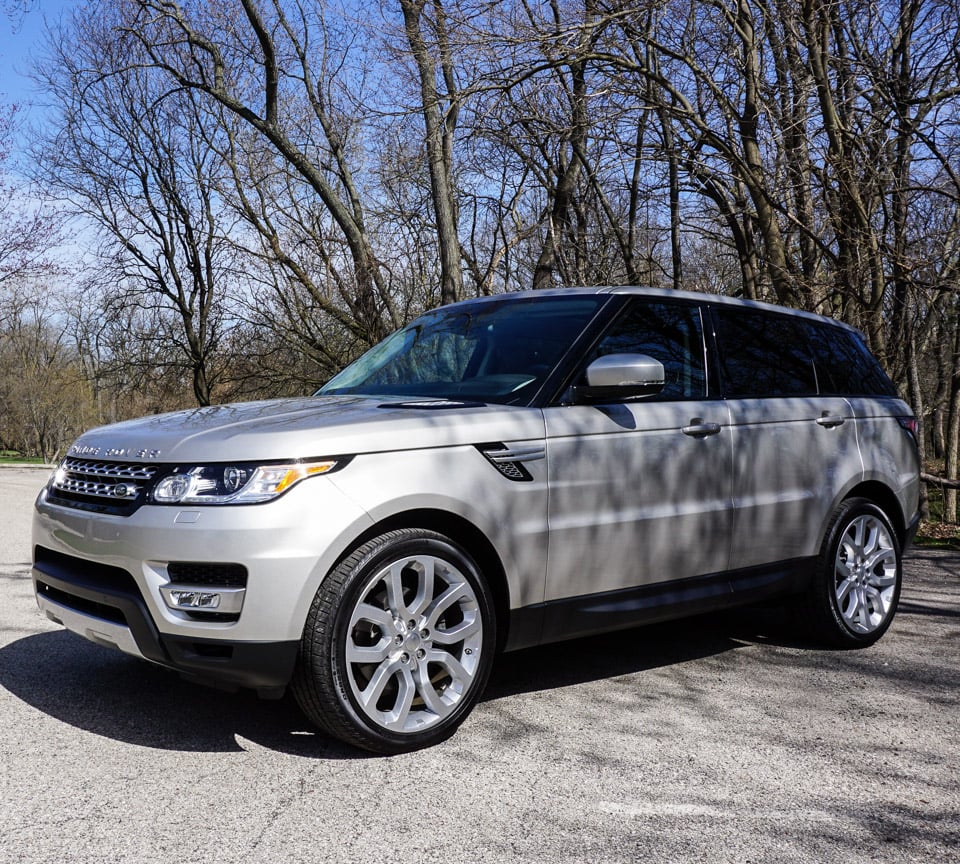 2015 Range Rover Sport V6 HSE

Powertrain: 340hp supercharged 3.0L V6, 8-speed ZF automatic transmission
0-to-60 Time (secs): 6.9
City/Hwy/Combined MPG: 17/22 (19 combined)
Curb Weight (lb): 4,727
Wheelbase (in): 115.1
Total Length (in): 191.2
Width (in): 81.6 (mirrors folded)/87.4 (mirrors out)
Base Price (USD): $68,525 (HSE package)
Price as Tested (USD): $82,027
The Range Rover has has long been seen as the ideal blend of luxury materials and capability in a single vehicle, and after a week behind the wheel of the 2015 Range Rover Sport HSE, I can confirm that's the case. But on top of its expected features, Land Rover has added exceptional comfort, style and power to the mix.
The Range Rover Sport comes in several flavors, ranging from base model SE and mid-range HSE (tested here), along with the Sport Supercharged, Autobiography and SVR. The SE and HSE models are driven by an ample 3-liter, 340hp supercharged V6, while the higher-end models get a bit block 5-liter supercharged V8, and offer an incredible 510 to 550hp.
Outside, the Range Rover Sport looks spectacular, taking the best styling cues from the Evoque and applying them to the Range Rover's larger footprint. This results in a car that's decidedly more sporty and modern looking than its boxy predecessors, while still preserving what makes a Range Rover great. The sloped roofline, and integrated rear spoiler give it a great sense of movement from the side. Riding on optional 22″ alloys, it looks especially robust, and I particularly love Range Rover's signature LED running lights – I think they're one of the coolest designs on the market.
When taking the Range Rover Sport out for a drive, I was immediately enveloped by the cabin's comfort on all levels. From the lack of road noise to brilliant ride cushioning and dynamic suspension, to the soft leather seats, it's about as nice a place as you can be while rolling down the road. Even riding on massive 22s, the ride is like floating on a cloud – but never mushy or uncontrolled. A push on the gas pedal, and the V6 offers a satisfying supercharger whirr and immediate passing power. In fact, it accelerates a hair faster than my wife's Evoque, which weighs about 1,000 pounds less. Speaking of weight, the latest generation Range Rover Sport is about 800 pounds lighter than its predecessors, thanks to Land Rover's ongoing commitment to using high-strength aluminum in their construction. Shifting is handled deftly by my favorite automatic gearbox on the market – the ZF 8HP 8-speed, which never skips a beat.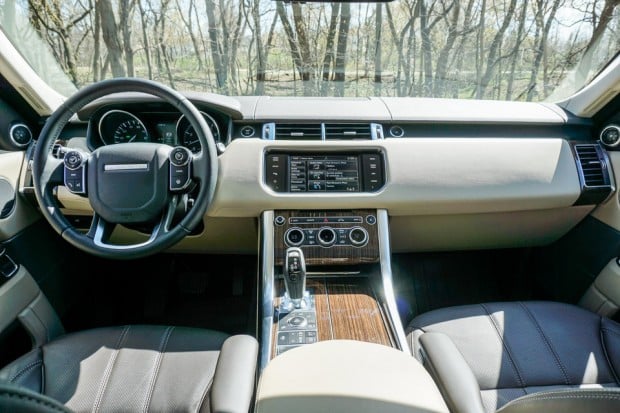 Whether you're heading to the grocery store, taking a long highway drive or driving through mud ruts or sand, the Range Rover can handle whatever you dish out. A super-smart electronic terrain response system determines the current conditions and adjusts traction and the amount of power to send to the wheels automatically. The full-time all-wheel drive system can dynamically distribute torque at any ratio between front and rear for optimum versatility. You can also hand select modes for snow, sand, rock, or mud if you have a specific case that you want to ensure it's set up for. In addition to traction control, this comprehensive system provides a variety of capabilities including hill-ascent and descent assistance, dynamic stability control, and roll stability control. You can also lock the rear differential for really challenging terrains.
I was especially impressed with the air suspension system, which offers the ability to lower the vehicle for entry, operate it at a normal height for everyday drives, or raise the entire chassis for off-roading. This technology also provides for automatic load leveling, ensuring a smooth ride no matter what cargo you're carrying. In off-road mode, ground clearance is raised from 8.4 up to 10.9 inches, and from a 24.3 degree approach angle to 33 degrees. And if you're thinking about fording water, you can tread through 33.5 inches of the wet stuff while staying dry and comfortable inside.
Speaking of the interior, the Range Rover Sport doesn't disappoint. There are premium materials throughout, including Oxford leather seats, real aluminum trim, soft-touch fabrics on the dash and doors, and optional zebrawood trim, which looks particularly spiffy. You'll also get a variety of tech features, including an 8-inch touchscreen infotainment and navigation system, and a rearview camera. I recommend going for the blind spot monitoring and rear-cross traffic alert features, which come bundled with the climate comfort and visibility package. These are invaluable safety features, especially in a larger vehicle. I only wish they offered a 360-degree camera system like some other SUV makers do.
There's plenty of room inside the cabin as well with seating for five adults – and an optional third row for small kids if you need it. In the case of my review vehicle, the rear was strictly meant for storage, with a 60/40 split folding rear seat which makes way for an impressive 62.2 cubic feet of storage if you need it. There's also – get this – a full size spare underneath the storage area. Yes, they really do expect you to go off-road this Range Rover.
Cabin headroom is exceptional, while legroom is good for both front and rear seat passengers. When equipped with the climate and comfort package, you get heated and ventilated 16-way power seats up front, as well as a heated steering wheel and heated rear seats. There's also a nifty surprise in the armrest – a refrigerated cooler that's perfect for a couple of cans of soda, or for keeping candy bars from melting on hot summer days. Floating overhead is a massive panoramic roof, and unlike the Evoque, the front half of this one can actually be opened.
The 2015 Range Rover Sport is really a spectacular vehicle. It offers everything you want in a modern SUV, with plenty of space and comfort for its occupants, as well as power, and true off-road ability. If you're in the market for a luxury SUV that can really go from city to country, Range Rover is still at the top of their class.