Behold the 2016 BMW 7-Series
bmw | bmw 7 series | bmw 740i | bmw 750 xdrive | June 10, 2015
---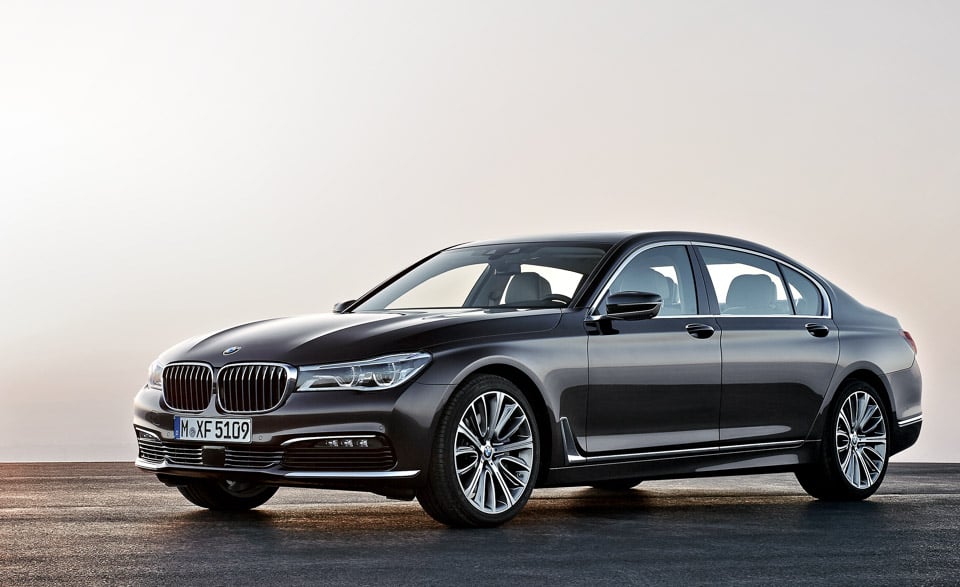 Today BMW pulled back the curtain on the all-new 7-Series, the sixth generation of Bavarian Motor Works' flagship saloon. When the 2016 7-Series makes its way to the U.S., American buyers will have their pick of a 740i model and a 750 xDrive all-wheel drive model. In both cases, the byword from BMW is "lightweight," with liberal use of carbon-fiber-reinforced plastic (CFRP) in the passenger cell to shed 190 pounds over its predecessor, while upping the torsional strength and bending stiffness of that ever-important part of the sedan where you'll be riding. U.S. buyers will only have the option of the long wheelbase version, which will be the roomiest sedan BMW has ever rolled off its assembly line.
One technology BMW is touting with the new 7-Series is the so-called "world's first Gesture Control." This technology comes standard, and works in conjunction with BMW's iDrive 5.0 touch screen operating system. Pre-selected hand movements near the center console activate 3D sensors, which register and fulfill these literally "manual" commands. Crank the volume on that Rolling Stone song, reject that call from your boss with a wave of the hand, as you look to nearby drivers like Mozart conducting a symphony in your mind. The technology is configurable, so you can choose what action you'd like to control with Gesture Control.
The 740i 's inline 3.0-liter twin turbo 6-cylinder engine puts out 320 horsepower for a 0-60 time of 5.4 seconds, while its big brother the 750 xDrive boasts a 445 horsepower, 4.4-liter twin turbo V8 capable of a 4.3 0-60 sprint. (BMW also announced the 740e xDrive, a plug-in hybrid apparently arriving in the States in 2016.)
Putting that power to the road is BMW's eight-speed Sport Automatic Steptronic transmission, which links to the navigation system and adapts to the driving profile and route guidance. BMW's familiar Driving Dynamics Mode has different settings (Comfort, Comfort+, Eco Pro and Sport) for various driving moods, as well as a Launch Control feature. BMW's self-leveling air suspension ensures that ride height remains constant, even for an unevenly distributed load.
Inside, a two-section panoramic moonroof with an opening front section comes standard, and on the 750i, so does BMW's new generation Heads-Up Display, with a 75% larger projection area than its predecessors. Center console controls are framed by fine wood or aluminum, and buyers can choose from Nappa Leather or (on 740i variants) Dakota leather interior.
Check out the photos and videos here, and if you're enchanted by the newest 7 Series – and have roughly $82,000(USD) for the 740i or $98,000 for the 750 xDrive to spare – they'll be arriving in U.S. showrooms this fall.