Review: 2015 Mazda CX-9 Grand Touring AWD
mazda | June 19, 2015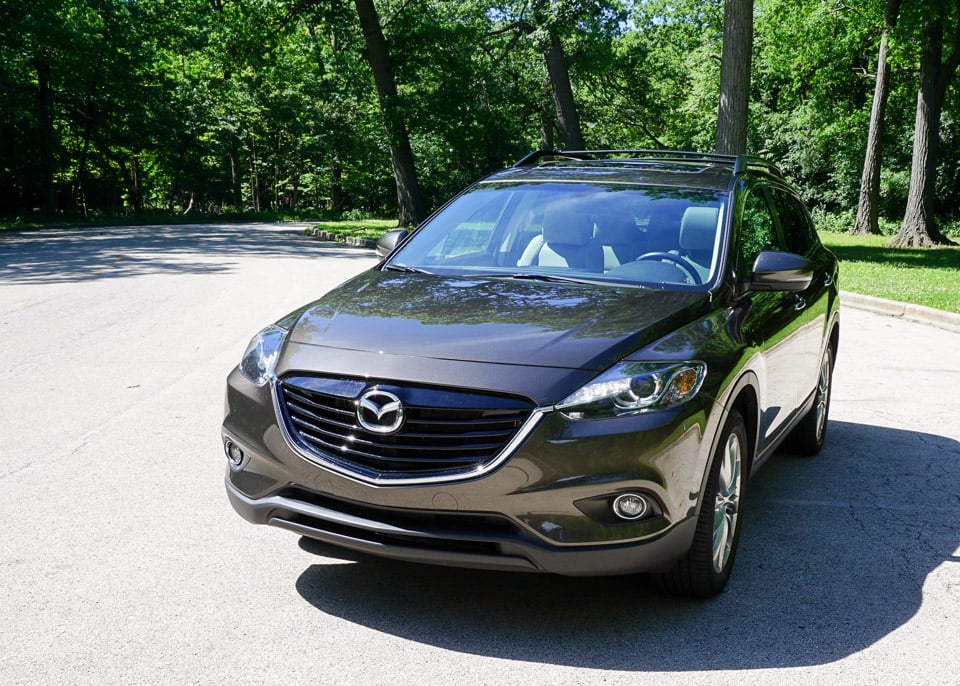 2015 Mazda CX-9 Grand Touring AWD

Powertrain: 273 hp, 3.7L V6, 6-speed automatic transmission
0-to-60 Time (secs): 7.6 (est.)
City/Hwy/Combined MPG: 16/22 (18 combined)
Curb Weight (lb): 4,559
Wheelbase (in): 113.2
Total Length (in): 200.6
Width (in): 76.2
Base Price (USD): $36,625
Price as Tested (USD): $39,890
Mazda's CX-9 sits at the top of the size range for the company's SUVs. It's a full seven passenger vehicle, offering tons of space for people and cargo. In addition to space, it's surprisingly zippy, and handles well for an SUV of its size.
The CX-9 Grand Touring is the most luxurious variant, with a starting price North of $36,000. While the vehicle is fairly utilitarian in its looks, Mazda's "KODO Soul of Motion" design language is most prominent in the design of its grille, which today carries across almost the entire Mazda line.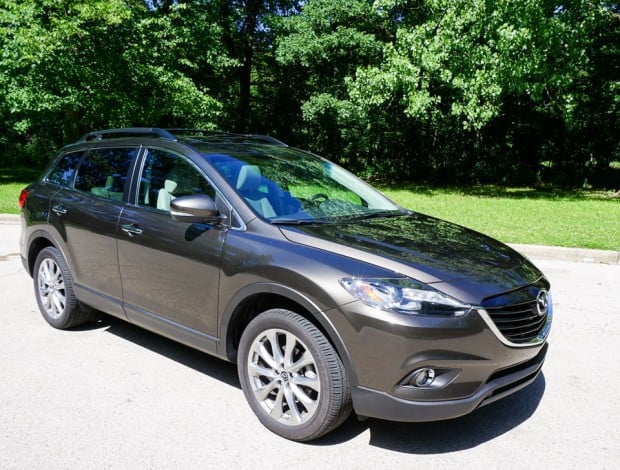 Flanking the grille are bright bi-xenon headlamps, accented by LED daytime running lights, and fog lights in the bumper. 20-inch aluminum alloys provide a surprisingly soft ride given their size.
Powered by a 3.7-liter 24-valve DOHC V6, there's 273 horsepower on tap, which provides 270 lb-ft. of torque. Connected to a 6-speed automatic and an active torque-split AWD system, power is plentiful, offering a sub-8 second 0-to-60 time, not bad for a seven passenger utility vehicle.
While its ride and steering characteristics are decidedly softer and lighter than my personal preference, the CX-9 still feels like a much smaller vehicle than it actually is. I kept having to remind myself that this thing was a 200 inch long, 4500+ pound utility vehicle. The combination of power and good body roll control help to make it feel more like a crossover than a jumbo family hauler. Despite its heft and power, it also get surprisingly good gas mileage. I consistently averaged 18.9 mpg driving in a mix of city and highway settings, which is better than many sedans I've driven.
The CX-9 feels pretty darned good to drive, and it's got very comfortable leather seating. However, I found the rest of the interior to be a little uninspired. There aren't any premium materials on the dash, and the tiny 5.8″ screen on the infotainment system feels dated – both in terms of its interface, and the fact that my iPhone 6 Plus has almost the same size screen. Supplemental trip information like MPG is displayed on an old-school orange LED panel, instead of integrated into either the instrument cluster or touchscreen, and the keyless start is operated with a knob on the steering column instead of a pushbutton – an obvious retrofit of a standard keyed ignition. That said, it's all perfectly usable, but I'd love to see Mazda bring the dashboard and controls more up to date with its competition. Just take a look at what Toyota did with the Highlander.
Both the Touring and Grand Touring models pack a plethora of standard safety tech, including blind-spot monitoring, rear backup camera and sensors with rear cross-traffic alert, and E911 emergency notification. In addition to the aforementioned touchscreen, the optional Tech package adds a very good navigation system powered by TomTom, a punchy and loud 10-speaker Bose audio system, Sirius satellite radio and a power moonroof.
Of course, what really matters about a big SUV is how useful its interior is, and the CX-9 leads its class here, with three usable rows of seating, great headroom and legroom throughout. Honestly, I was even able to sit in the 3rd row all the way in the back – and I'm 6 feet tall. Sure, it takes a little effort to get in and out of the back row, but it's still impressive that adults can fit back there comfortably.
There's also plenty of cargo space and flexibility in the way you configure it. The seats in rows two and three can be split-folded, and the middle row can slide back and forward. With both rows in use, you still get 17.2 cubic feet of cargo space, which is fine for grocery shopping or golfing. Once you fold the third row, that space jumps to 48.3 cubic feet, and with both rows folded, space balloons to a whopping 100.7 cubic feet. To put that in perspective, the biggest cargo box on a Ford F-150 has 77.4 cubic feet of space. Of course, a pickup has no roof to get in the way. Speaking of roofs, there's a roof rail and crossbar package available if you still need to carry more gear.
There's a whole lot to like about the Mazda CX-9. It's powerful and handles well for its size. It's got a very comfortable and ridiculously spacious and versatile cabin. That said, I'd love to see some updates to the dash, touchscreen and trim to bring it more up to date in those areas. If you're in the market for a large SUV and need to transport a lot of people, pets or things, you'll definitely want to have the CX-9 on your test drive list.