Hot Water Makes Bimmer Hulk Out
awesome | bmw | hulk | marvel | paint | June 20, 2015
---
When most people apply hot water to a swanky ride like a new BMW they're trying to get it sparkling clean at the local car wash so they can drive around and show it off. Showing off is definitely the aim of German graffiti artist Rene Turrek when he tosses hot aqua onto his BMW SUV, but removing dirt and grime are not the result he is looking for.
Turrek repainted his car with an intense image of The Incredible Hulk on the hood and the word "HULK" emblazoned boldly on the side. Then he covered the cartoon images with a specially treated layer of paint that would disappear and reveal the images for a brief blast of time when he poured hot water on it. The video of the transformation process is pretty intense, as Turrek pours and tosses scalding water from a giant thermos onto the car and the giant green superhero magically emerges. The best part of the video is that Turrek films it during pretty chilly weather, so not only does the Hulk burst forth from from car, his monstrous image is enhanced with a menacing layer of steam.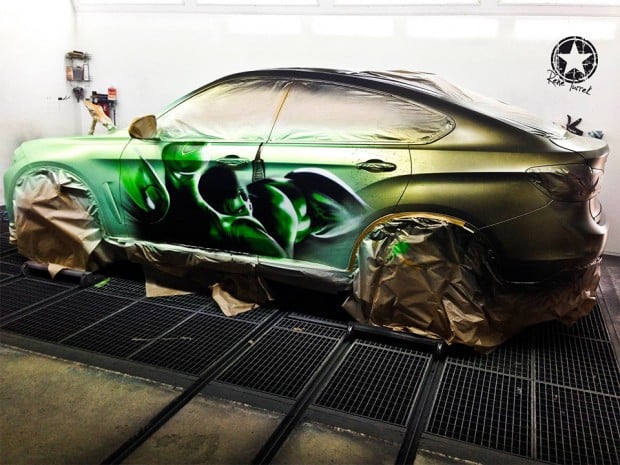 It's an awesome trick, but I have only one concern – because rain isn't hot enough to trigger the process, the only way people are going to be able to witness this wonder it is if Turrek parks the car somewhere, gathers a group around and then throws boiling water onto the car, so the opportunities to share his work in public seem pretty limited.