Corvette Gives New Meaning to "Cannonball Run"
What could possibly go wrong with a crazy stunt involving a man shot out of a cannon and a fast-moving Corvette? Well, some wild men in Mexico wanted to find out, and the video footage is pretty compelling.
Here's the basic gist. A guy, whose nickname is La Bala Humana, gets shot out of one of those massive circus cannons and he flies through the air toward a net that he is supposed to gently flutter down into. The hook is that the net won't expand to catch him until a Corvette Z06, which will follow beneath him as he flies through the air, snaps a string releasing the net. So if the car arrives even a moment too late then the stuntman would essentially crash to the ground, at the very least incurring grievous bodily harm.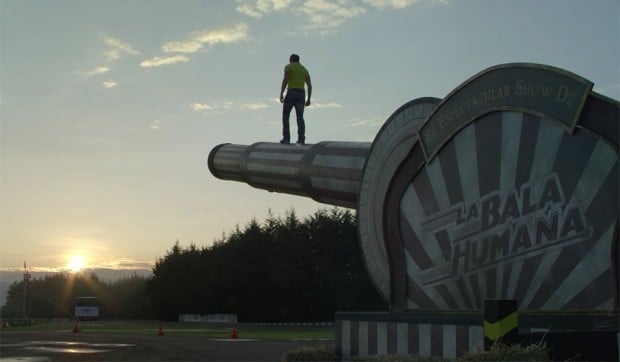 The real underlying mission of the stunt, though, is to test the accuracy of the Z06's Performance Data Recorder, which allows the people engineering the stunt to carefully calculate speed and distance so the Vette gets there just before La Bala Humana goes splat.
It's pretty clear what's going to happen, but the editing is really great, building up significant suspense. Almost equally intense is watching how much torque the Z06 has while whipping around the track to get into position and the astounding exhaust note it produces. The cannon goes boom, but the Vette does too.