Targa Topped Red Marlboro GMC Syclone for Sale
auctions | gmc | syclone | July 1, 2015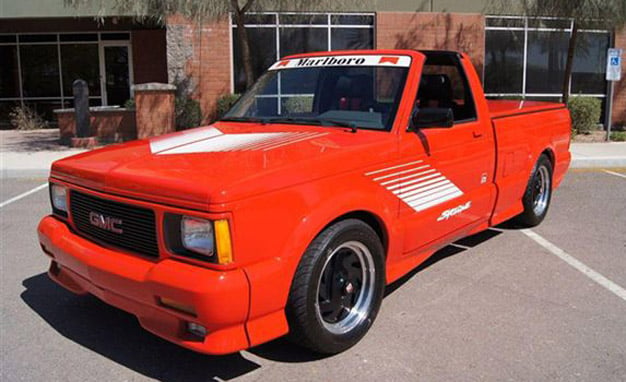 Back in the early '90s one of the coolest vehicles that GMC had ever produced, and perhaps ever has produced, was the Syclone truck. At first glance, the black truck appeared to be nothing more than your common lowered Sonoma mini truck popular in the day. It's what was under the hood that would blow the doors off just about anything made at the time.
The truck had a 4.3L turbo V6 pumping out 280hp and 350 lb-ft of torque. All that power went to the ground via an AWD system and an automatic transmission. This truck was very nearly as fast as the mightiest Ferrari's of the day, with virtually the same amount of torque as a Testarossa.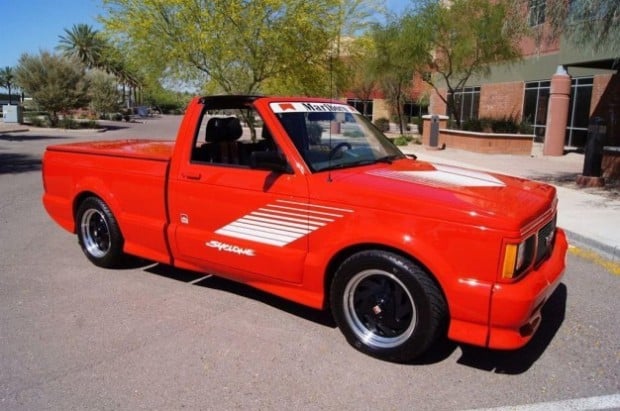 While most of them were black, what you see here is a special edition red Syclone. Apparently ten of these Marlboro edition trucks were given away in a contest, slathered with red paint, cancer stick branding, and a removable targa top. Inside, it's got Recaro seats, Simpson race harnesses, a Momo steering wheel, and a custom Sony stereo system. This one has just 3,000 miles on the odometer and is up for sale on eBay. Its seller is looking for $79,995, which really isn't bad when you consider each one cost over $100k to build.
It's damn sexy for a truck that can't haul anything but ass.