Review: 2015 Kia Soul EV
electric | kia | kia soul | July 5, 2015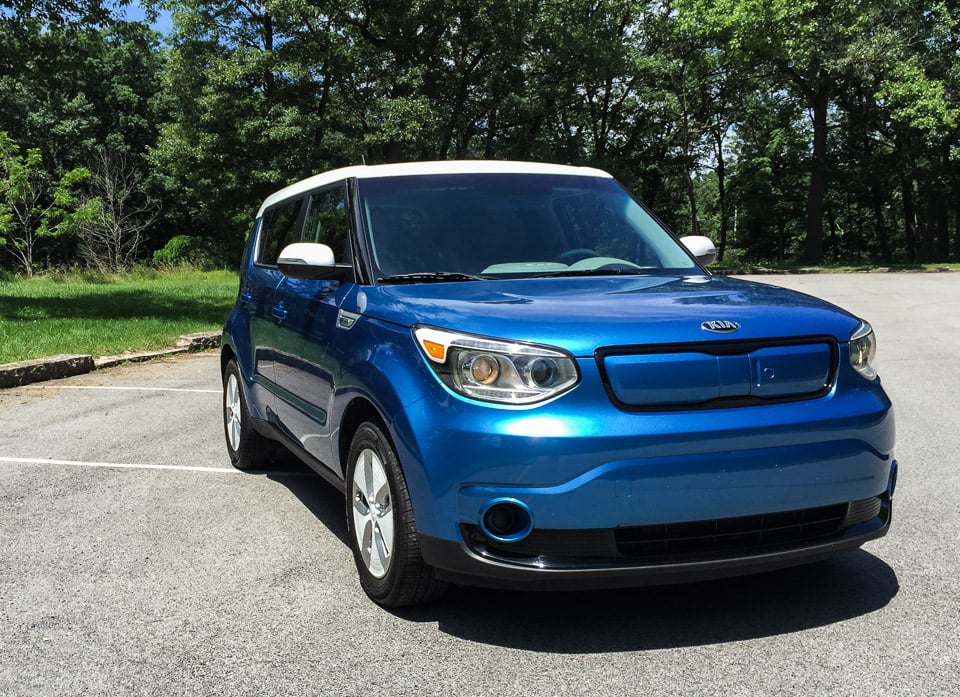 2015 Kia Soul EV

Powertrain: 109hp FWD Electric Motor
City/Hwy/Combined MPG: 120/92 (105 combined) MPGe
Curb Weight (lb): ~3300
Wheelbase (in): 101.2
Total Length (in): 163.0
Price as Tested (USD): $34,625 (before tax incentives)
The Kia Soul is one of those enigmas in the automotive industry. It defies categorization and is a bit goofy looking, but it's been wildly popular. I think that's because it really appeals to the creative and youthful market it's trying to reach, and Kia has done a great job conveying the playfulness and economy of this little vehicle.
Kia recently introduced an all-electric version, dubbed the Soul EV. From the exterior, it looks much like every other Soul – boxy with a pitched roofline, wide fender flares, and a flattened rear end. But look closer, and you'll notice that the Soul EV has lost its trademark "tiger's nose" grille to make way for charging ports. It rides on 16″ flat-faced wheels with white paint accents, wrapped in low-rolling resistance EV tires. Beyond those and the "ECO/Electric" badging, these are the only ways to tell the Soul EV apart from its fossil fuel-powered siblings from the outside. It's also only available in a limited color palette of white, grey, black with red accents, and the blue with white accents shown here. One of my friends said this particular color scheme reminded him of a Smurf, and now I've got that stuck in my mind. That said, I'd go for the black and red version if I were you.
Instead of a 130hp or 164hp gas engine, the EV sports a 109hp electric motor. But said motor pushes out an impressive 210 lb-ft. of torque, significantly higher than either of the gas power plants. Power is stored in a 27kWh lithium ion battery pack, which offers sufficient juice to drive the Soul an EPA rated 93 miles. This bests the more expensive BMW i3 (without the gas range extender) by about 15%. Since more of my driving was in urban areas than the highway, I actually managed about 115 miles on a full charge, thanks to power flowing back to the battery from the regenerative braking system.
Charging up is easy peasy. Just push the charging port open button on the dash, and a door in the front of the Soul slides open. Inside, you'll find both a standard AC charging port which can be used with household power, as well as a larger DC Fast Charge port. The latter is said to recharge the battery to 80% in about 30 minutes, though I didn't have a place to test it. I was able to recharge a 70% depleted battery to 100% with a regular 110v household outlet in about 10 hours. Kia says a fully depleted battery will take about 24 hours. If you don't have the time to spare, a 240v charger can be installed to juice it up in about 5 hours. Those blue lights on the dashboard indicate current charging status when plugged in.
Driving the Soul EV, it's immediately obvious that Kia wanted to offer a fun and lively feel. Steering response is tight and offers excellent road feedback, and the instant torque of the electric motor offers great off-the-line acceleration. Despite its paltry 11-ish second 0-to-60 time, it feels much faster. Perhaps that's because it does 0-to-30 in just over 3 seconds, so in city driving, it feels much faster than it sounds on paper. The motor itself is silent, other than a sort of whirr as you speed up, though the cabin's acoustic insulation could be better. I found road and wind noise did away with the complete silence one would expect from a pure electric.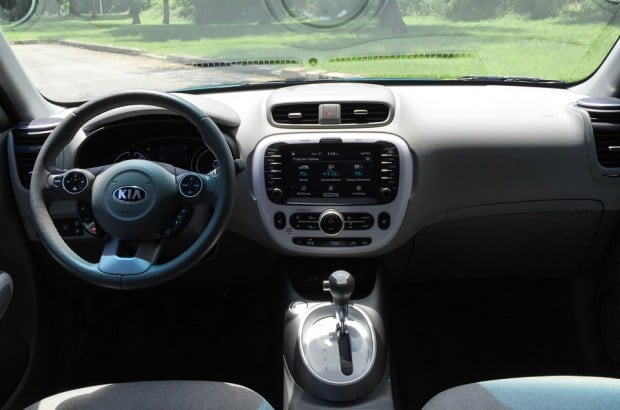 The base interior on the Soul EV is a bit different from the standard Soul, with light colored seating surfaces made from mostly corn and sugar cane extracts. There's also a frosted white bezel around its UVO infotainment system, which offers Kia's excellent user interface and a large 8″ touchscreen. In addition to navigation, media playback, and phone functions, the screen displays information on EV range, distance to the nearest charging station, and overall driving economy. Plentiful buttons and knobs offer tactile feedback for frequently accessed features. I especially appreciated the driver only climate mode, which increases efficiency if you're the only one in the car. The Soul EV also gets a backup camera as standard equipment. Front and rear parking sensors come with the "+" model.
The instrument cluster is outfitted with trio of digital gauges – an OLED information panel flanked by a round eco gauge and speedometer. The dashboard is made from soft-touch materials, and numerous components are made from eco-friendly materials, including the dash, headliner, pillar trim, carpets and floor mats.
The front seats are heated, and ventilated fronts and heated rears are available in the "+" model. Interior space is good for a vehicle of its size, with exceptional headroom, and good comfort for front seat passengers. Rear seat legroom is decent, though you lose 3″ compared to a standard Soul because of the battery pack that's placed under the floor. There's 18.8 cubic feet of rear storage – which includes a sub-floor compartment for storing charging cables and other small items. Fold the split rear seats down, and storage jumps to a much more useful 49.5 cubic feet.
Overall, I found driving the Soul EV to be a enjoyable experience, and this little car is dripping with personality. It's a great fit for urban environments and for hauling small cargo loads. The big question is whether or not the added expense to choose the EV over a standard model is worth the price difference. A fully-loaded Soul (with leather seats, 18″ wheels, etc.) is about $22k, while the Soul EV starts at $33,700. That said, federal EV tax credits are currently set at $7500, plus many states have additional incentives, so you're looking at an effective price around $25,000. Plus, there's the money you'll save on gasoline, and the positive feeling you'll get from not leaving a carbon footprint. On the flip side, the regular Soul has a little more interior space and more available color schemes.
In all honesty, I think the biggest deciding factor is where you drive. If you commute less than 45 miles each way every day, and don't plan on taking any long road trips, go for the EV. You won't spend a dime on gas ever again – and that's a pretty great feeling.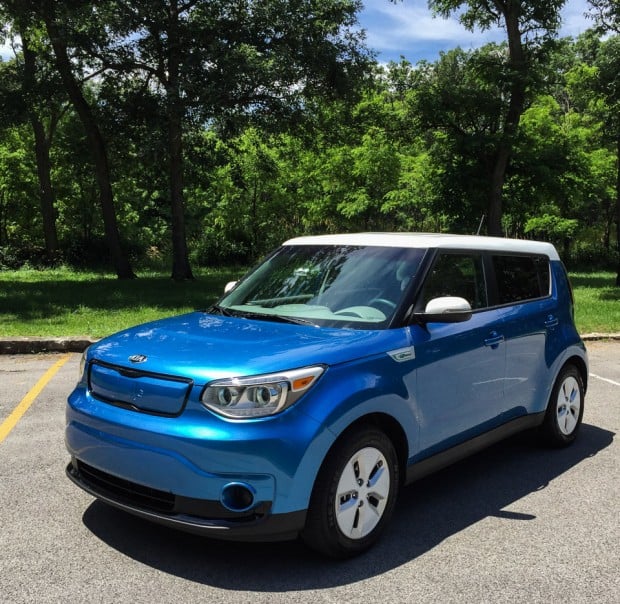 Currently, the Soul EV is only available in limited U.S. markets, with California and Georgia already selling them, and Oregon, Washington, Texas and Hawaii coming soon. Kia is also offering a special lease offer as low as $249 per month for 36 months with $1,999 due at signing.