Jaguar Land Rover Tech Researching Potholes
jaguar | land rover | safety | technology | July 7, 2015
In much of the world, roads aren't exactly in the greatest of condition. Weather, wear and aging materials end up causing potholes, divots and other road hazards for all vehicles. If you've ever hit a really bad pothole and blown a tire, bent a rim, or damaged some other part of your car, you know they can be costly and dangerous.
Now, Jaguar Land Rover is working on technology to help drivers avoid potholes before they can do such damage. Currently in the research stages, the Pothole Alert tech would use a windshield mounted camera and sensors to capture the location and severity of upcoming potholes and not only alert the driver, but send data back to the cloud and alert drivers behind your vehicle. The captured GPS and photographic data of the pothole could also be shared with road maintenance agencies so they could act on them.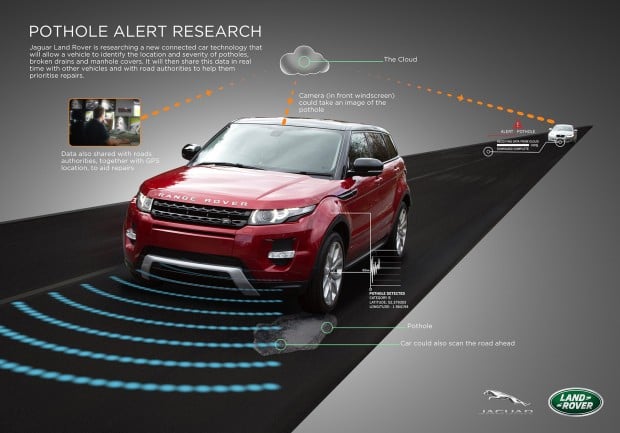 There are certainly a few obstacles to such a technology being effective – specifically, the car-to-car data sharing aspect, since that wouldn't be very valuable unless there is wide adoption. I think the idea that the system could be used to allow autonomous systems like cruise control to avoid potholes is more realistic.
I also find it funny that the first vehicle shown with the tech is a Range Rover – which should be able to handle potholes like they're nothing. I'd much rather see them install this on the low-riding F-Type.