Fly up Pikes Peak in a Porsche GT3 Cup Turbo
hill climb | pikes peak | porsche | racing | July 10, 2015
I love driving fast on a racetrack at track days and such. It's a blast to squeeze the most out of your car. I'm not sure I would ever want to race up Colorado's Pikes Peak though. On the racetracks in this part of Texas, if you slide off track pushing a bit too hard the worst that is likely to happen is a dirty car.
If you slide off while racing Pikes Peak, you could go off a cliff. In fact, people have died racing the Pikes Peak Hill Climb. I have great respect for the racers who can bring themselves to take this sort of risk in motorsports.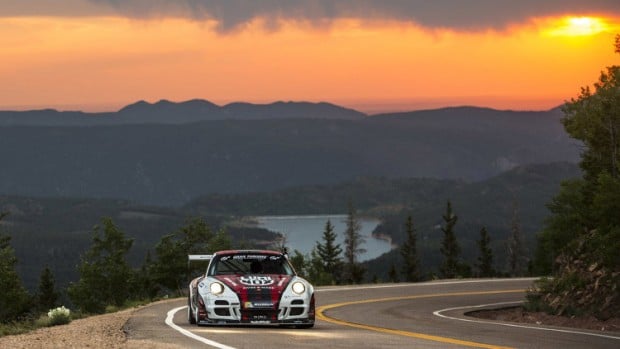 If you are a fan of racing risk, Porsche cup cars, and beautiful mountain scenery, you will want to watch this video. It shows Jeff Zwart flying up Pikes Peak in his Porsche GT3 Cup Turbo, which belches some flames in the process. No flappy paddles here, check out that footwork. Be sure to watch it in 4K if your computer supports it.