Porsche 911 GT3 & Ferrari 458 Speciale Duke it Out
ferrari | porsche | racing | July 17, 2015
---
Both the Porsche 911 and the Ferrari 458 Italia are high performance and special machines on their own. If you have the money and inclination, you can get even more impressive versions of both of these cars in the 911 GT3 and the 458 Speciale. Those are two of my favorite track-focused exotics.
If you ever wondered which is better on the track? Chris Harris and Tiff Needell of Fifth Gear got to hit the track at Castle Combe to sort it out. Lucky bastards. The Ferrari has a significant horsepower and weight advantage, while the Porsche has its legendary cornering ability.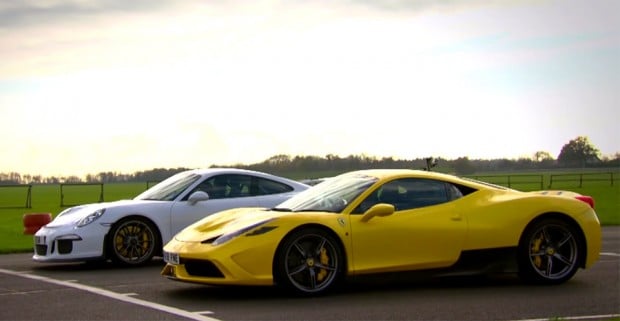 So which car was more impressive? I'm not telling; watch the video to find out for yourself. I do know I'd rather have that Ferrari for the pure sound and style. Too bad the GT3 is plain white; it looks like the frumpy sister of a major league hottie next to the Ferrari.