Help This Electric Mustang Hit 200 mph
kickstarter | mustang | July 21, 2015
Last year we reported on a crazy-fast, electric-powered 1968 Mustang Fastback "super muscle car" built by Austin, Texas-based Bloodshed motors, dubbed the Zombie 222 (222 stands for 2 motors, 2 controllers and 2 damn fast). The company founder, Mitch Medford, says his group is "trying to show the whole world what can be done with electric power in a gorgeous vintage muscle car." And it looks like they are succeeding. Bloodshed claims their Zombie can go 0 to 60 in – gulp – 1.94 seconds, "quicker than every super car in the world." Their Mustang then set a record for an electric-powered car on the arrow-straight Texas Mile of just under 175 mph.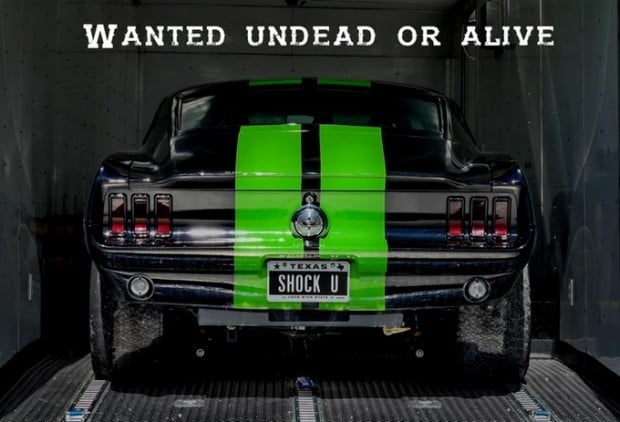 Now Bloodshed wants to up the ante to 200 mph for the Texas Mile, and they are taking to Kickstarter to do it. As they say on the site, "Going above 200 MPH is not only technically challenging, but darn expensive. We need your help." Enhancements to the Zombie will include a roll cage, HANS device, fire suppression system and wind-tunnel testing.
Some of the Kickstarter incentives for helping Bloodshed reach this milestone are pretty weak – for $5 you get listed on the site saying you helped, for $15 you get a pack of stickers and for $35 you get a T-shirt. However, for a $1,500 Platinum Sponsorship, you are a part of the actual pit crew when they try and crack 200, and you get a ride in the Zombie. No airfare or hotel included, but as they say, "this is a fundraising event."
Take a look at how wicked powerful the Zombie is in their Kickstarter video, and you may want to tap into your kid's college fund to be there and help make it happen.