First Drive Review: 2016 Mazda MX-5 Miata
mazda | mazda miata | mazda mx-5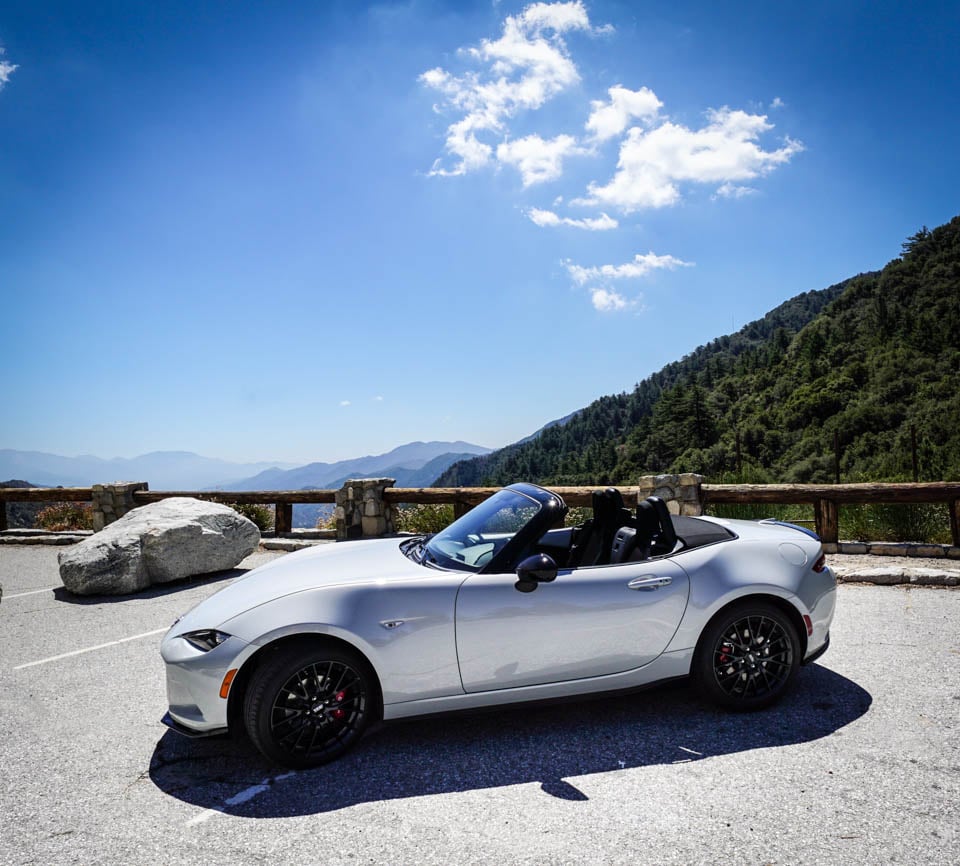 2016 Mazda MX-5 Miata

Engine: 2.0L Skyactiv 4-cylinder
Horsepower: 155
Torque (lb-ft.): 148
Transmission: 6-speed Manual or 6-speed Automatic
0-to-60 Time (secs): ~6.0
City/Hwy/Combined MPG: 27/24/30 (Manual) / 27/34/30 (Automatic)
Curb Weight (lb): 2,332 (Manual) / 2,381 (Automatic)
Wheelbase (in): 90.9
Total Length (in): 154.1
Width (in): 68.3
Base Price (USD): $24,915 (Sport) / $28,600 (Club) / $30,065 (GT)
Price as Tested (USD): $32,000
Ever since it was first announced, I've been really excited about the 2016 Mazda MX-5 Miata. Its fresh new design has tremendous visual appeal, and Mazda managed to trim 150 pounds to get the car back to fighting weight after years of gradual bloat. After having been given the opportunity by Mazda to take the new MX-5 (in the performance-oriented Club variant) through the beautiful canyons of Southern California, I had a gigantic grin on my face. Yes, my job does not suck.
The first thing you'll notice about the new Miata is how much more aggressive it looks than any of its prior incarnations. Like its other recent vehicles, the MX-5 follows Mazda's "Kodo" design principles, which result in a highly dynamic, muscular body style. When viewing the car from the front or rear, it has a sort of trapezoidal stance, pushing the width and visual weight out to the bottom edges of the car and its wheels. From the side, there's a great sense of movement and sleekness, with an elongated hood, and shortened front and rear overhangs. As an added bonus, every new Miata gets sculpted LED headlamps and daytime running lights, which take up less space than conventional lamps.
There were plenty of complainers when Mazda revealed that the new 2.0-liter engine would produce a few less horsepower than its predecessor, but let me tell you, this car feels faster than any stock Miata I've ever driven. In fact, it does 0-to-60 in about a second less than its most recent predecessor. Between an increase in torque and the car's reduced weight, it feels plenty fast. Keep in mind that the Miata isn't the car you'd take to a drag race. It's designed for winding roads and curvy race circuits, and that's where it shines brightest.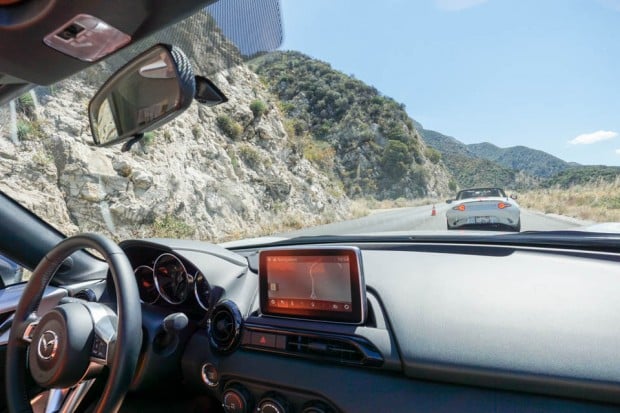 I only got to drive the 6-speed manual, which is an easy-shifting gearbox with a pleasantly light clutch, but didn't try out the 6-speed automatic. For a car like the Miata, a manual is always a bit more engaging than an automatic, but at least the auto comes with flappy paddles to keep things a little more fun.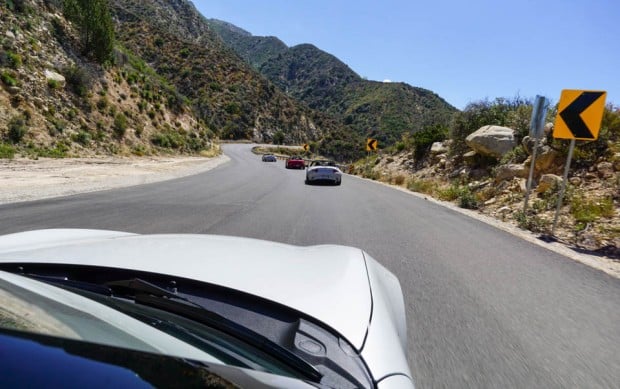 The suspension in the MX-5 is incredibly compliant, offering just the right amount of softness to deal with punishing back roads, but it never feels mushy in the least. And this is one car where body roll is a good thing. Your center of gravity is so low, and the handling so good, that the action when going around a corner is like riding an amusement park ride. It takes twisty turns at speeds you'd never feel confident at in a car with more power, and the feeling of connection to the road is simply spectacular, especially with the Club's Bilstein shocks and sport-tuned suspension. In a way, I like to think of the MX-5 as "the world's best go kart."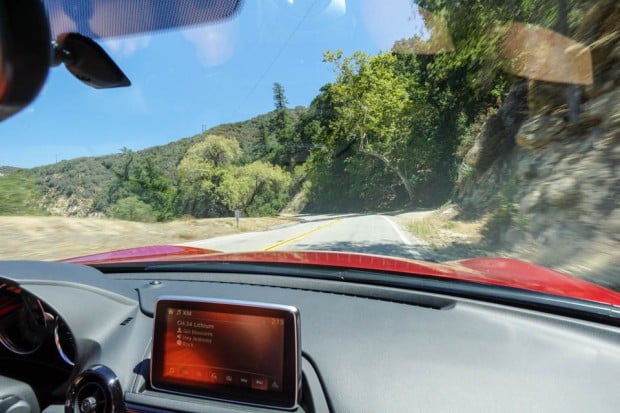 The interior of the new MX-5 has been upgraded too, with more modern finishes and technology, significantly increased front visibility, and more comfortable seats. Any 2-seat roadster is going to be a little cramped, but good engineering and ergonomics make this cabin totally manageable. Both me and my driving partner are over 6-feet tall, and were comfortable driving for long distances. The passenger side is a bit more cramped if you have long legs, due to the position of the horizontal dashboard padding, and a rather large hump on the floor on the right side of the transmission. Still, I was able to fit there – but there wasn't any real wiggle room.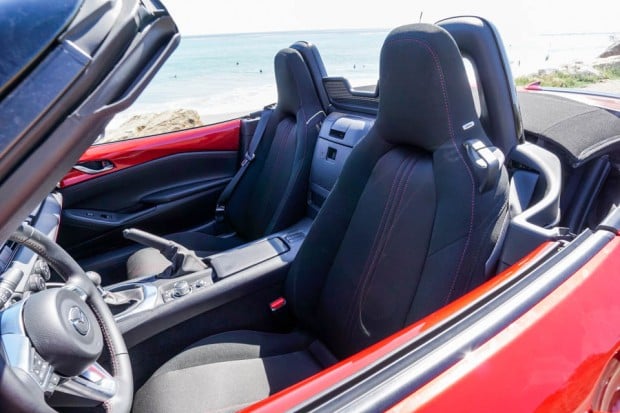 Finishes are more upmarket than past generation Miatas, with the sporty Club model and upscale GT getting the best of the bunch with red stitched fabric or leather seats, respectively, and body-colored interior panels on the doors. This is one of my favorite design features of the car, as it creates a continuous surface from the front fenders into the passenger compartment. This helps make the exterior and interior feel like a single cohesive unit.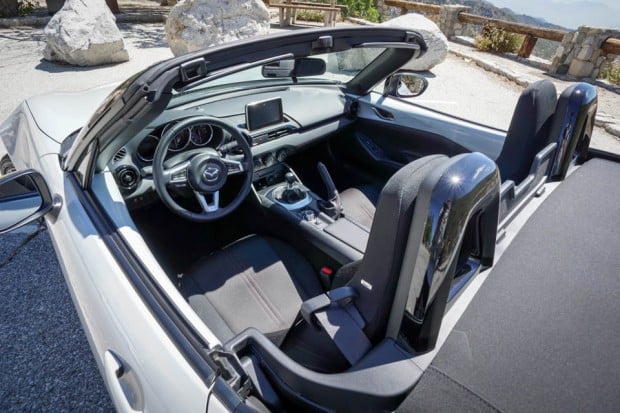 One thing to keep in mind is that storage space in the cabin is extremely limited. There's no traditional glovebox, and no permanent cupholders. There's only a small bin behind the center console and detachable cupholders which can be used when you need them. While I'm not sure of the reason for skipping the glovebox, the cupholder move made perfect sense – as the old ones got in the way of gear changes for the manual. That said, the new controls for the infotainment system now pose a similar problem. On more than one occasion we accidentally changed screens when resting our arms for shifting. And while the deep new trunk is more usable than in past, it's actually a little smaller by volume. But any such small issues pale in comparison to the driving experience.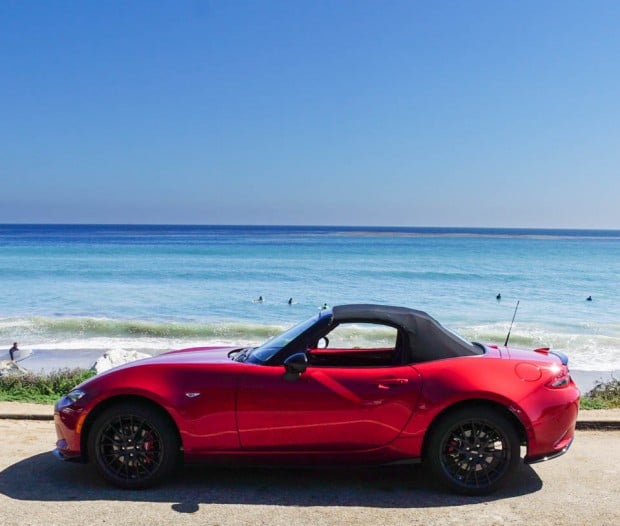 First and foremost, the new MX-5 Miata is a driver's car, and there it succeeds brilliantly. It's fun, accessible, and easy to drive, whether you like to take a leisurely Sunday drive or prefer the thrills of pushing a car to its limits. It's an immensely rewarding experience to drive a Miata, whether you're a fanatic or never driven one before, now is a fantastic time to consider buying one.