EPA Pegs 2016 Volt with 106 MPGe rating
chevy | EV | gm | volt | August 4, 2015
The Chevrolet Volt is an interesting car, but it hasn't exactly sold like gangbusters. The plug-in hybrid car is updated for 2016 and Chevy is hoping the revision will help it reach more buyers. The new 2016 Volt certainly has better driving range with the ability to travel 53 miles on electricity alone – up from 38 miles in the outgoing model.
That is 40% more electric driving range than the 2015 Volt. The EPA has give the 2016 Volt a fuel efficiency rating of 106 MPGe. GM said that buyers of older Volt cars did 80% of their driving on electricity alone.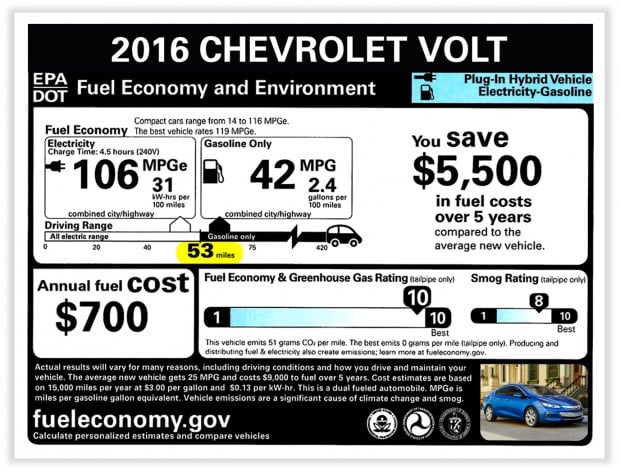 With the improved EV driving range, that number should improve significantly for buyers. The longer driving distance on electricity comes from a larger 18.4kWh battery pack. The 1.5L gas-powered generator inside the car is good for 42 mpg, and gives the car a total driving range of about 420 miles.