1973 Mazda RX-3 Restomod: '70s Cool
jay leno | mazda | rx-3 | August 25, 2015
I tend to think that the last cool cars of the 1970s came in the first few years of the decade. Cars like the Ford Mustang were at their best until about 1973. Come a year later, they were ugly, underpowered cars that few people want to collect today. Jay Leno got his mitts on a restomod 1973 Mazda RX-3 and the car looks pretty darn good.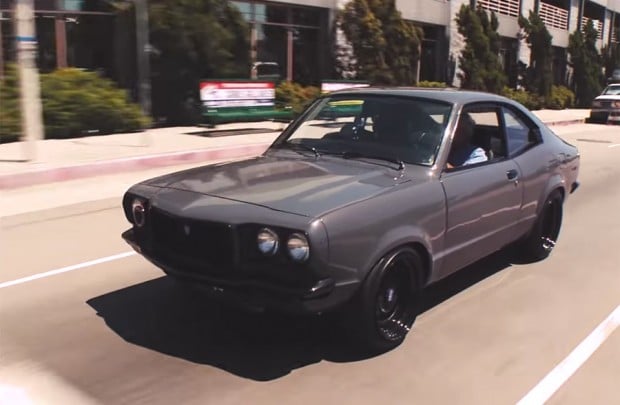 Leno stumbled onto this particular RX-3 sitting outside the Petersen Museum in LA and liked it so much he waited outside for the owner to come out so he could interview him. Apparently, during the RX-3 run from 1971 to 1978, it won lots of races. The 2000 pound car has a Wankel rotary engine from a second gen RX-7 that produces about 400 hp, and will rev up to about 9000 RPM before it hits the limiter. The car wears Lambo paint and has updated brakes all around. Watch the video to learn more about this sweet ride from the '70s. Skip to about 11:40 to see the car in action.


I would have never considered an old RX-3 to be a car I liked, but I really dig this ride.