Peugeot's Fractal Concept Droptop EV Angling to Stun
convertibles | peugeot | peugeot fractal | September 1, 2015
Lion-hearted French automaker Peugeot has revealed its stunning Fractal convertible concept ahead of the 2015 Frankfurt Auto Show, and the first question that popped into my mind had nothing to do with the car, per se. What the heck is a "fractal"?
Frac-tal. /ˈfraktəl/. noun. "[A] curve or geometric figure, each part of which has the same statistical character as the whole. Fractals are useful in modeling structures (such as eroded coastlines or snowflakes) in which similar patterns recur at progressively smaller scales, and in describing partly random or chaotic phenomena such as crystal growth, fluid turbulence, and galaxy formation."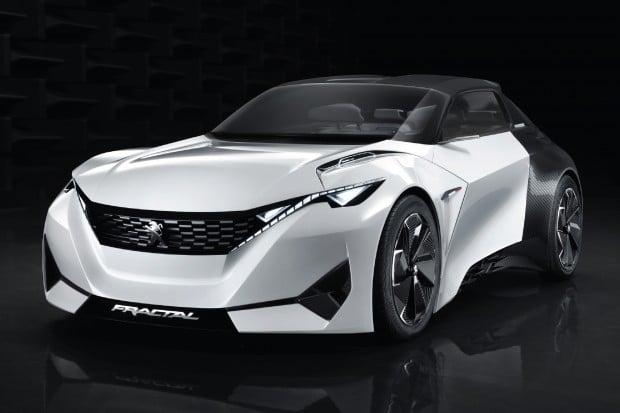 Well, vocabulary lesson completed, I (and you) now know. Leave it to the French to come up with head-scratching names for their auto concepts. But it can't be denied, whatever mathematical legerdemain it took to get there, the Peugeot Fractal is a stunning machine in keeping with the Peugeot's Vision Gran Turismo concept, revealed earlier this year.
The four-wheel-drive, matte black-and-white electric roadster has two 102 horsepower motors mated to a 50 kw/h lithium ion battery, producing a claimed 0-62 miles per hour clip of 6.8 seconds. The car also offers the ability to adjust its ground clearance to adapt to different terrains.
Much of the focus of the Fractal is on its audio capabilities. Peugeot's so-called "9.1.2" sound system produces a signature sound when the doors are opened (thanks to a smartwatch connection), and packs a state-of-the-art master audio system by Focal with bass boost provided by an American startup SUBPAC.
Check out the Fractal images, and look for more from the Frankfurt Auto Show when it kicks off September 15.